In this guide, we are going to learn how to install and setup Landscape on Ubuntu 18.04. Landscape is a system management tool that is designed for easy management of multiple Ubuntu systems from a single dashboard. From landscape dashboard, you can apply package updates, categorize machines by group, make changes to targeted machines even when they are offline, create scripts to automate routine tasks and any other possible administrative task.
Landscape can be used as a hosted service as part of Ubuntu Advantage, or run it on premises via Landscape On Premises Server. In this guide, we are going to learn how to use Landscape on premise server.
To learn more about Landscape and features it offers, check their documentation page.
Installing Landscape on Premise
To set up your on premises Landscape server, ensure that your server meets the following minimum system requirements.
System Requirements and Prerequisites
Dual-core processor running at 2.0GHz or higher
At least 4GB of RAM, and 5GB of disk space.
OS must be Ubuntu Server 12.04 LTS x86_64 or higher.
PostgreSQL installed
Network ports 80/tcp (http) and 443/tcp (https) open
Optionally open port 22/tcp (ssh) as well for general server maintenance.
Install and Setup Landscape on Ubuntu 18.04 Server
Assuming that your system has met above requirements, proceed to install Landscape. Note that in this guide, we are going to perform a quick installation that installs all the required packages including PostreSQL database.
Landscape is not available on the default Ubuntu 18.04 repositories. Hence, you need to add the Landscape PPA repository and install it as shown below.
Add Landscape PPA repo
apt install software-properties-common
sudo add-apt-repository --update ppa:landscape/19.01
Install Landscape on Ubuntu 18.04
Once you have the PPA repos installed, update your system packages and run Landscape installation.
apt update
sudo apt install landscape-server-quickstart
The installer will handle the Landscape setup automatically.
Once the installation is done, you can access Landscape from web UI using the link https://landscape-server-hostname.
If firewall is running, open both port 80 and 443 by executing the command below;
ufw allow "Apache Full"
Once you get to the UI, you will be welcomed by a Landscape sign-up page.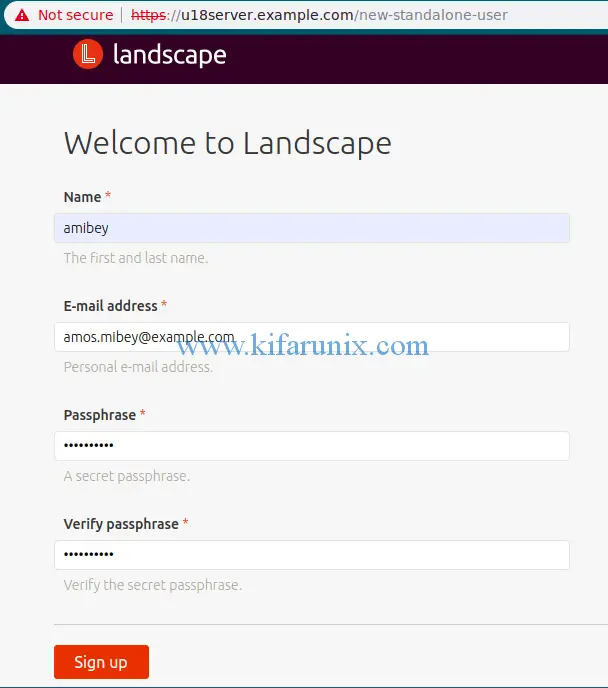 Enter you details and hit sign-up to proceed to Landscape user interface.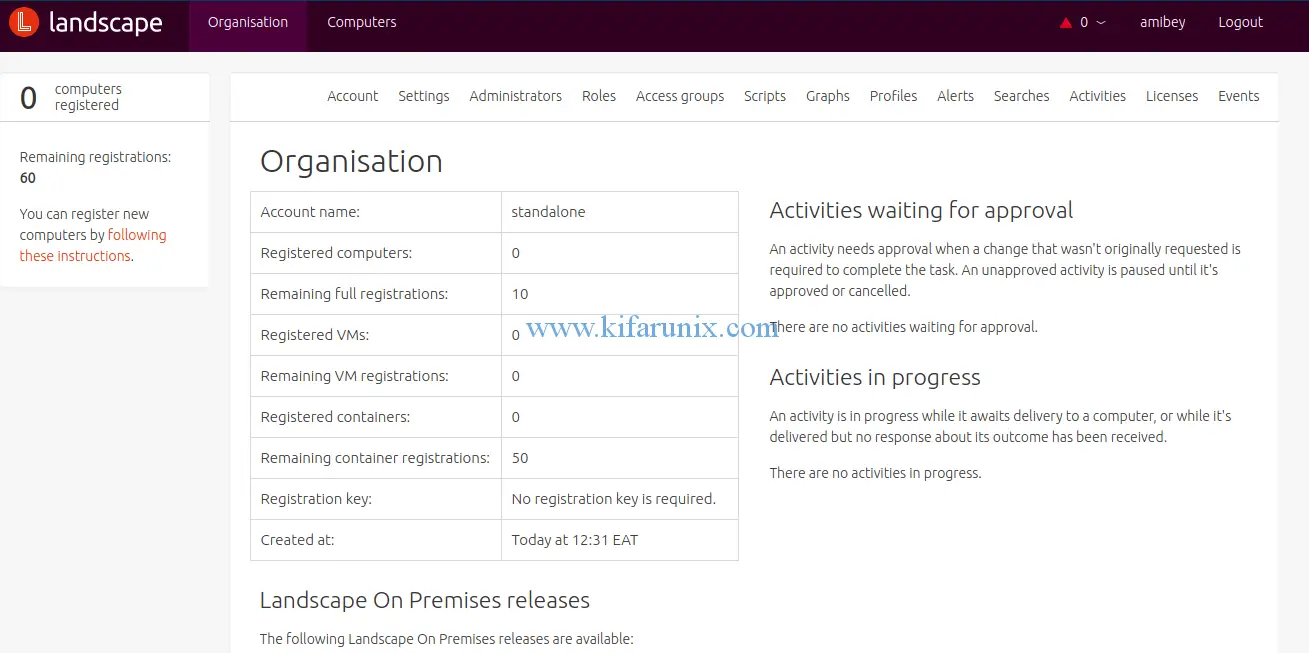 As you can see, the default dashboard has zero computers added for management. In our next tutorial, we will cover how to add and manage Ubuntu systems using Landscape.
Well, until our next guide, that is all on how to install Landscape on Ubuntu 18.04.
Hey, before we let you go, don't forget to check our similar articles by following the links below;