This guide will take you through how to install Webmin on Debian 10 Buster. Webmin is a web based control panel that allows system administrators to manage system administration tasks such as user account management, package management, configuring DNS or any other system administration task from web interface on Unix systems.
Install Webmin on Debian 10
Install Webmin APT Repository
Webmin is not available no the default Debian 10 APT repositories. Hence, you need to install the Webmin APT repository in order to install it using the APT package manager.
echo "deb https://download.webmin.com/download/repository sarge contrib" | sudo tee /etc/apt/sources.list.d/webmin.list
Next, install the Webmin repository GPG signing key.
apt install gnupg2
wget -qO - http://www.webmin.com/jcameron-key.asc | apt-key add -
Run System Update
Once the mirrors are installed, run system update.
apt update
Install Webmin
You can now install Webmin via the APT package manager by running the command below.
apt install webmin
Accessing Webmin Web Interface
Once the installation is done, you should see a line informing you on how to access Webmin.
...
Webmin install complete. You can now login to https://SERVER-HOSTNAME:10000/
as root with your root password, or as any user who can use sudo
to run commands as root.
...
So as stated, you should be able to access your server via Webmin on https://SERVER-HOSTNAME:10000/.
If UFW is running, allow external access to tcp port 10000.
ufw allow 10000/tcp
You can access Webmin from the browser using the URL provided. Webmin uses self-signed SSL certificate by default. As such, When prompted, ignore the SSL certificate warning and proceed to Webmin interface.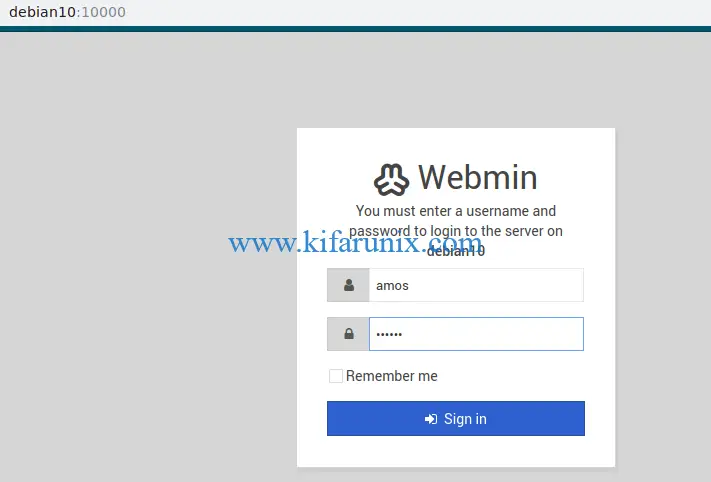 Login to Webmin as root user or any user who has sudo rights to run system administrative tasks.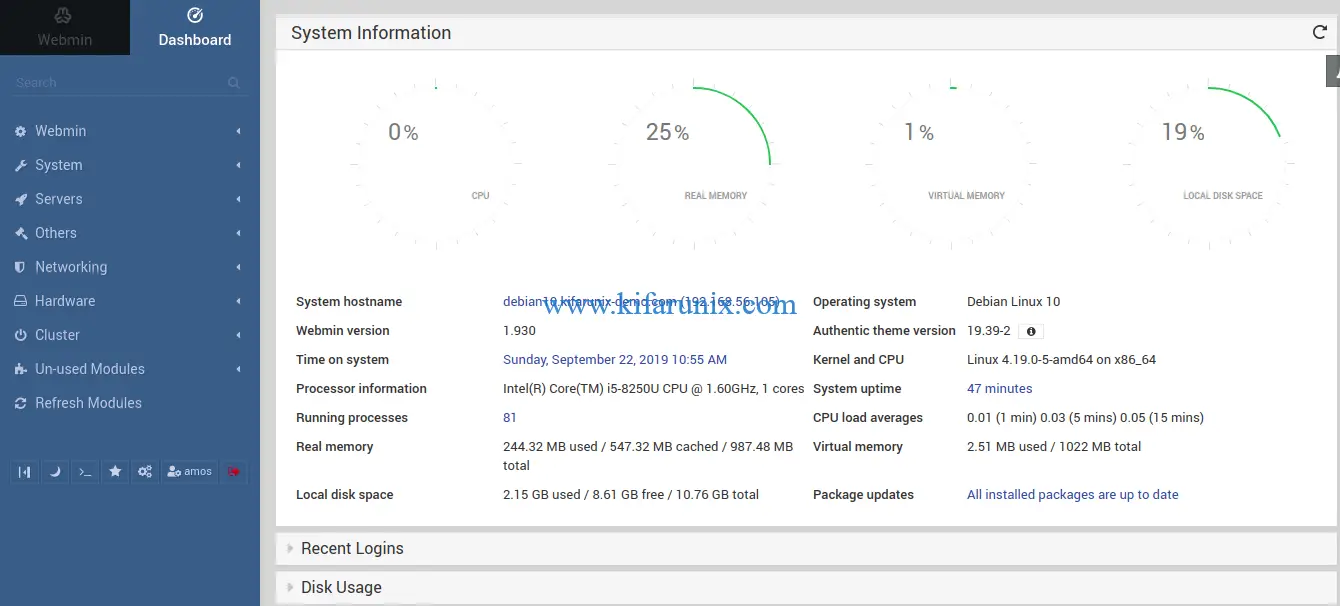 You have successfully installed Webmin on Debian 10. You can run administer any task as you would when logged in directly to the server. Enjoy.
Related Tutorials
Install and Use Webmin on Fedora 30
Installing Webmin Web-based Linux System Administration Tool Fedora 29/28/CentOS 7
Install AnyDesk on Ubuntu 18.04