ping 192.168.1.1 -c 4
PING 192.168.1.1 (192.168.1.1) 56(84) bytes of data.
64 bytes from 192.168.1.1: icmp_seq=1 ttl=64 time=0.851 ms
64 bytes from 192.168.1.1: icmp_seq=2 ttl=64 time=0.539 ms
64 bytes from 192.168.1.1: icmp_seq=3 ttl=64 time=0.487 ms
64 bytes from 192.168.1.1: icmp_seq=4 ttl=64 time=0.541 ms

--- 192.168.1.1 ping statistics ---
4 packets transmitted, 4 received, 0% packet loss, time 3056ms
rtt min/avg/max/mdev = 0.487/0.604/0.851/0.146 ms

Access EFW Web Interface
Once you have the correct network settings on the client system, open the browser and enter the address https://<you-efw-ip>:10443. Ignore the browser SSL warning and proceed to EFW dashboard to complete the installation.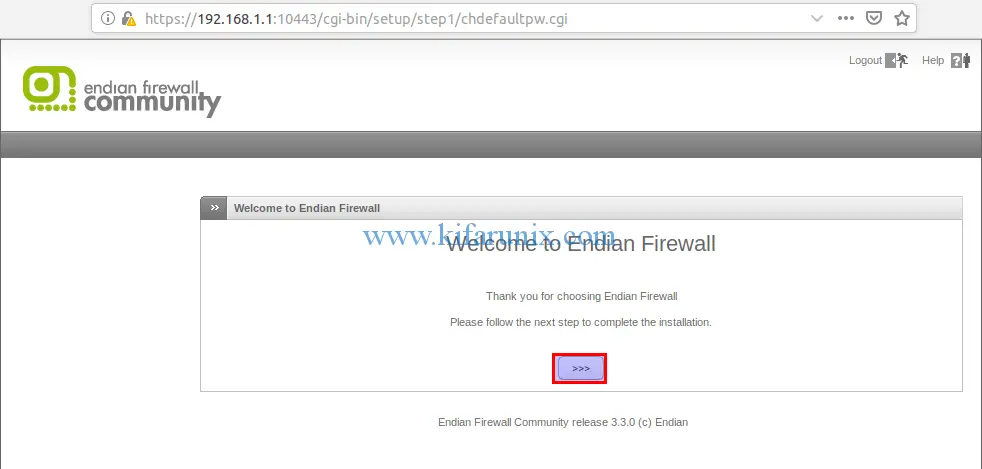 Set the EFW Timezone
Click the forward button, >>>, to proceed with EFW setup. Select your language and timezone.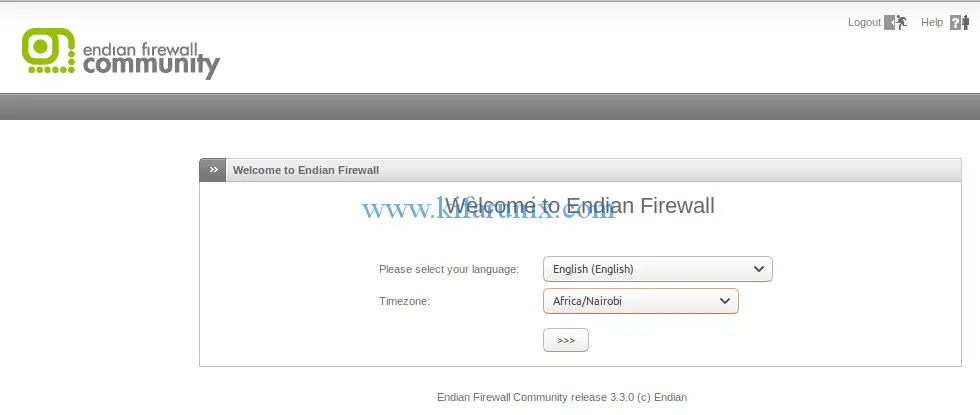 Accept the License
Accept the GNU general public license and proceed to the next step.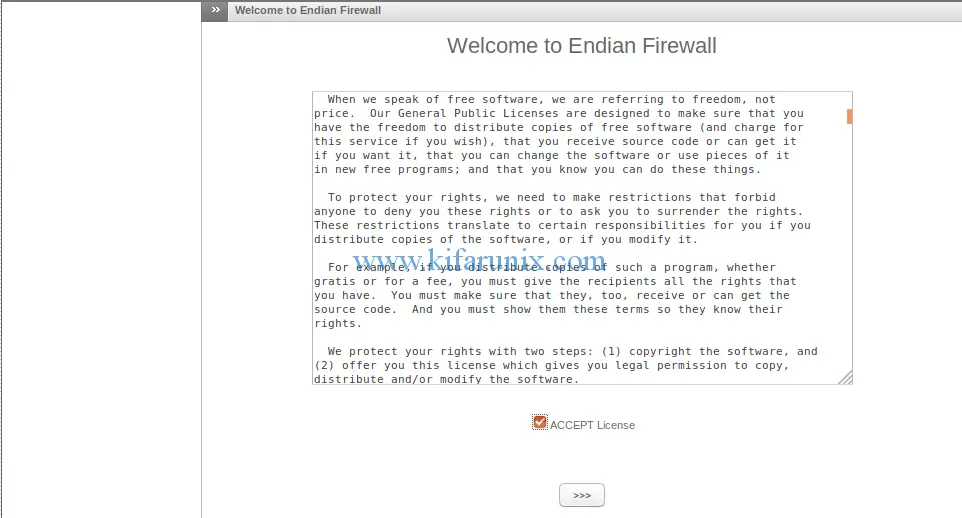 Restore from Backup
In the next step, you are prompted whether to import the backup. If you have any, then select yes. Otherwise, select no and proceed.

Set Web/SSH password
Set Web frontend and SSH password. The usernames used here are admin and root respectively. Ensure that you set strong passwords.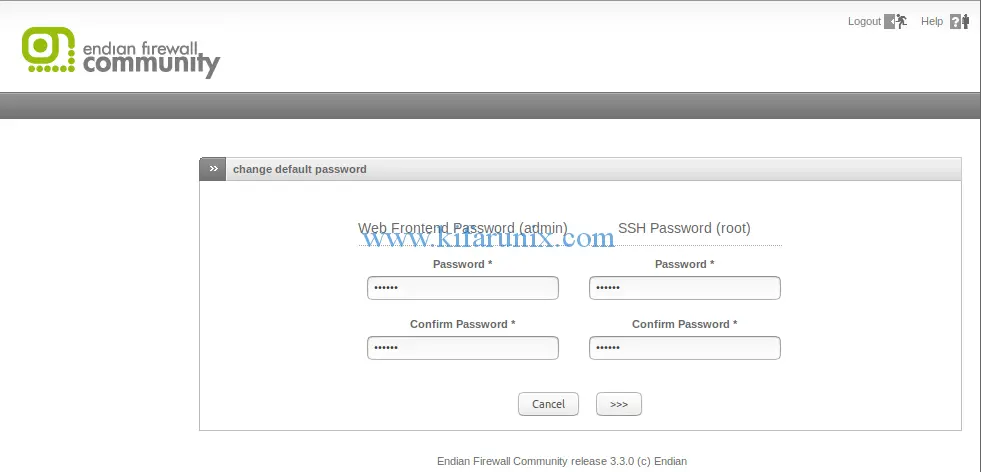 EFW Network Configurations
In the network configuration step, you need to configure the IP addresses for the various EFW interfaces;WAN (Red), LAN (Green), DMZ (Orange) and WiFi (Blue). Note that all other interfaces are optional except the LAN interface.
Choose network mode and uplink type
In this guide, WAN interface (RED) will be configured with a static IP address hence, setting the uplink type as Ethernet static. Default routed network mode is used.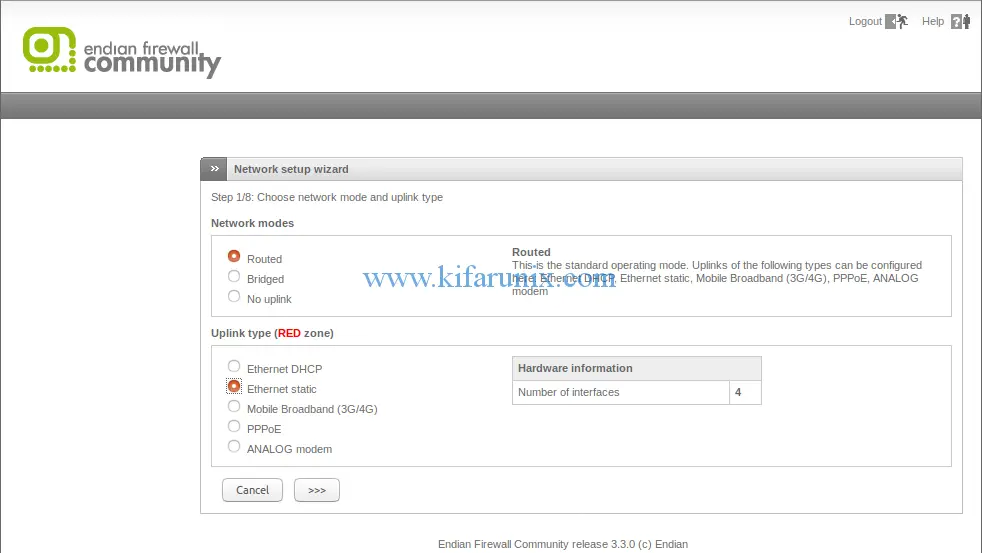 Choose Network Zones
Enable the network zone of your preference. This guide enables both the DMZ zone (Orange) interface on which servers accessible directly from Internet will be attached to and BLUE (WiFi) interface which provides a network segment for WiFi clients.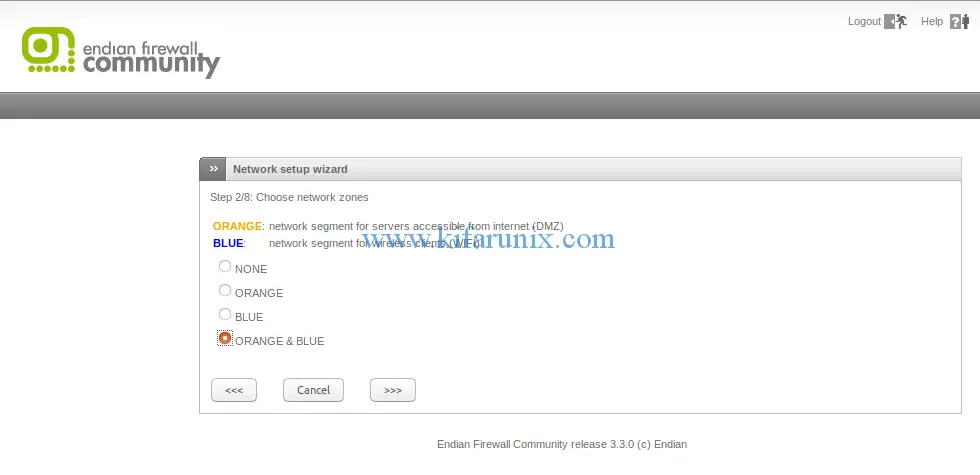 Configure LAN Interface
Since we have already define the LAN (Green) interface, leave the default settings.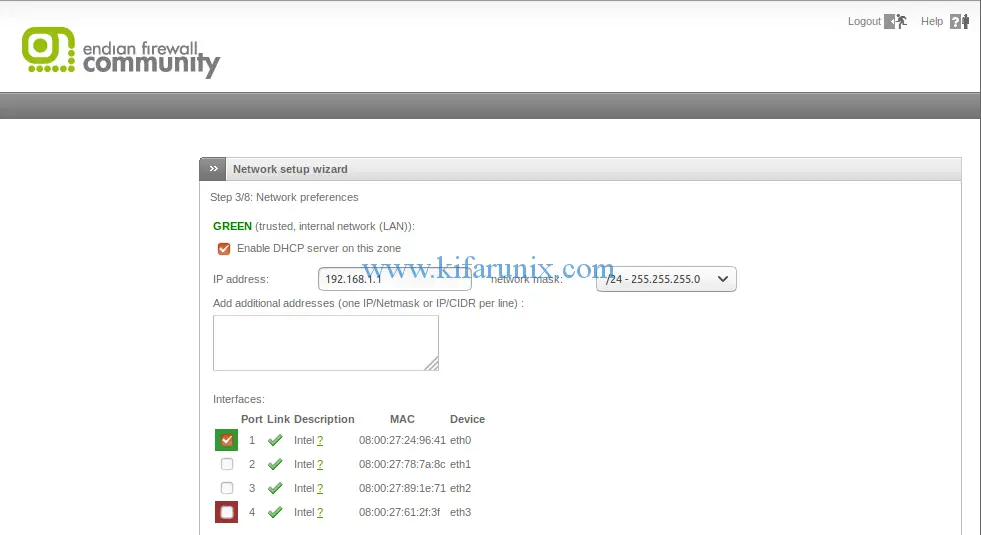 Configure DMZ and WiFi Networks
For the DMZ (Orange) zone and WiFi (Blue) zone, define the IP addresses and select the interfaces to attach to. Set your EFW hostname and domain name and click the forward button >>>, to proceed to the next step.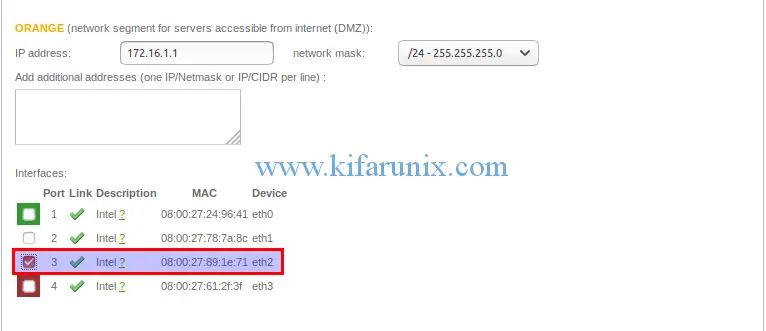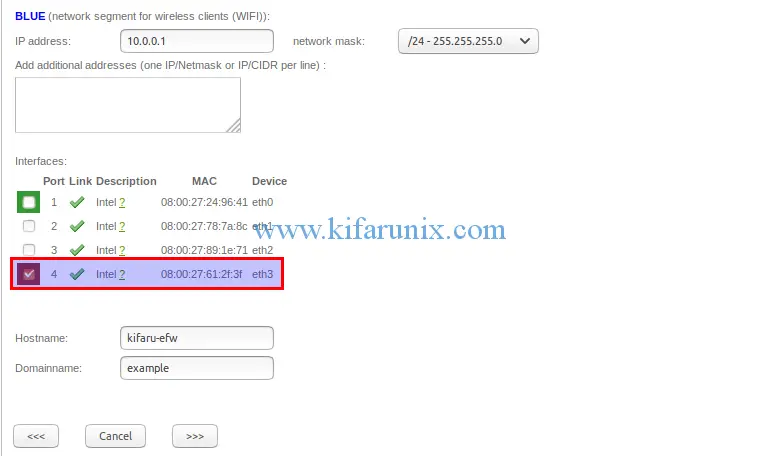 Configure WAN Networks
Next, configure the RED (WAN) interface according to your ISP connections. In this guide, the EFW router will be connected to the ISP router whose gateway is 192.168.0.1 (192.168.0.0/24).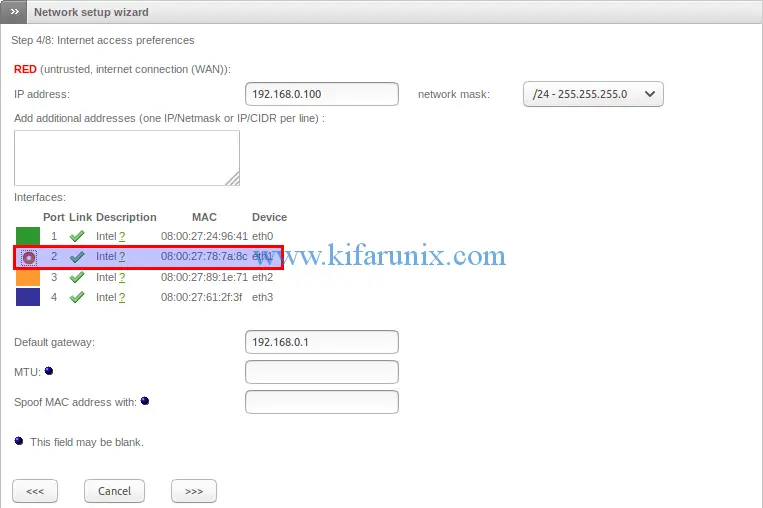 Set DNS Server Addresses
In the next step, set the DNS server IP. If you are using DHCP settings for the WAN interface, you can optionally skip this.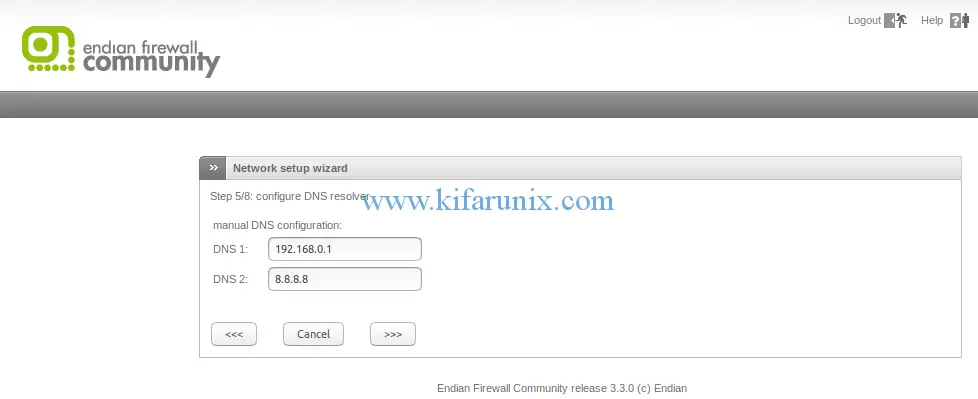 Next, you can optionally set the email address for EFW admin (recipient) and the Endian from address (Sender).

Once you are done with settings, click Ok to apply.

After a few minutes, the services will reload. If you are prompted to authenticate, use web frontend credentials set above.
In the final step, If you have registered with EFW community, enter the email address you used. Otherwise, you can skip this step if you do not want to receive any updates. You can always set this again from System > Updates.
The EFW dashboard after all configurations.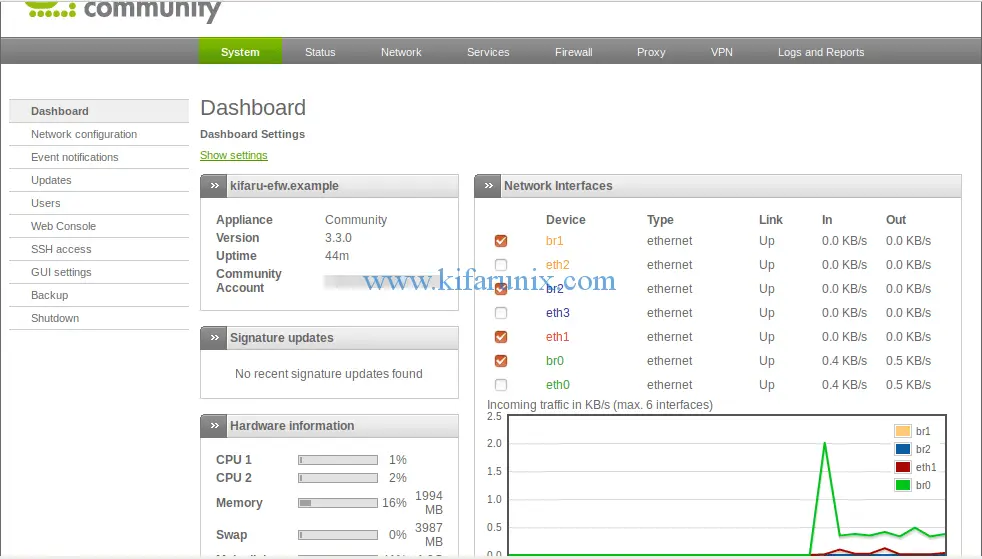 That is all about how to install and cofigure Endian Firewall on VirtualBox. You can now go through the Status, Network, Services, Firewall, Proxy, VPN, Logs and Reports tabs for various EFW settings. Enjoy.