Welcome to our guide on how to install and configure Endian Firewall on VirtualBox. Endian Firewall Community (EFW) is an open-source Red Har Enterprise Linux (RHEL) based security software offering a stateful packet firewall, basic web and email security, open-source antivirus and powerful VPN (IPsec and SSL). It also provides a live network monitoring and reporting that allows you to visualize and monitor traffic on your network in real-time
Install and Configure Endian Firewall on VirtualBox
This guide focuses on the installation and configuration of the open-source version of Endian Firewall on VirtualBox.
Download Endian Firewall Community
Navigate to the Endian Firewall community downloads page and grab the latest installation ISO.
Create New Virtual Machine
Once you have the Endian Firewall ISO downloaded, launch VirtualBox and create a new virtual machine. In this guide, we are going to setup EFW with the following minimum requirements;
20GB storage disk
2GB RAM
2 CPU cores
At least two network interface cards. This guide uses 4 interfaces (LAN, WAN, DMZ, WiFi). (Arrangement may vary for your case)

First Interface: GREEN Zone (LAN) – Internal network- intnet
Second Interface: RED Zone (WAN) – Bridged
Third Interface: ORANGE Zone (DMZ) – Internal network- intnet1
Fourth Interface: BLUE Zone (WiFi) – Internal network- intnet2
Once you have created a new virtual machine, mount the Endian Firewall ISO and boot the new virtual machine with it.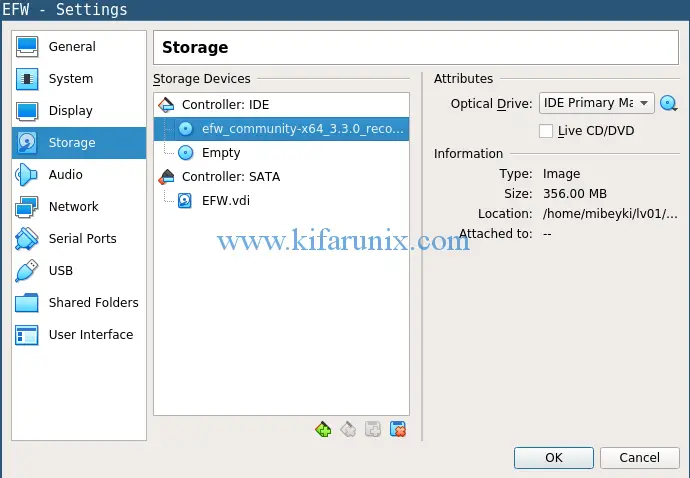 Install and Configure Endian Firewall on VirtualBox
Once you are done setting up the virtual machine, click Start to start the installation. Once the virtual machine runs, you are prompted to choose the installation language.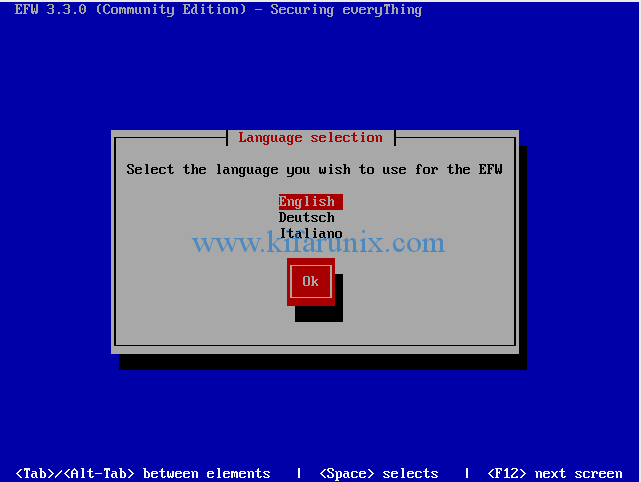 Choose your language and press Enter. On the welcome screen, press Ok to proceed.
Next, Select Yes and press Enter to start partitioning the disk in preparation for installation of EFW.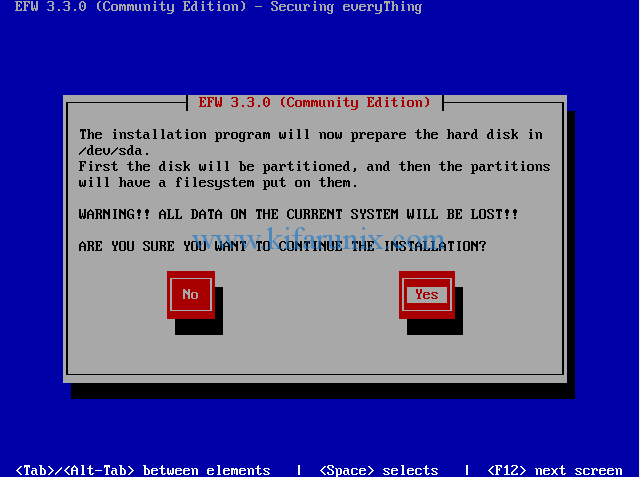 Next, you are prompted to enable connection over serial cable. This is optional and thus it is disabled in this guide.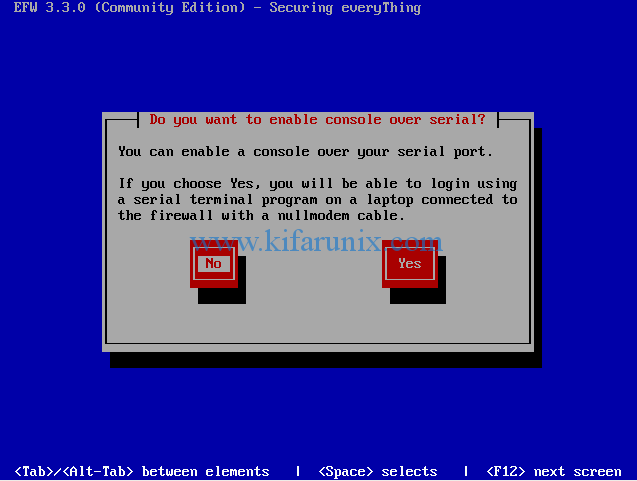 Next, you need to configure Endian Firewall GREEN interface IP. GREEN interface IP is the LAN interface IP for EFW. You can learn more about network zones on the network settings page. The default IP for the GREEN interface is 192.168.0.15/24. Be sure to change this based on your network.
Remember this is the internal network interface we assigned while setting up virtual machine.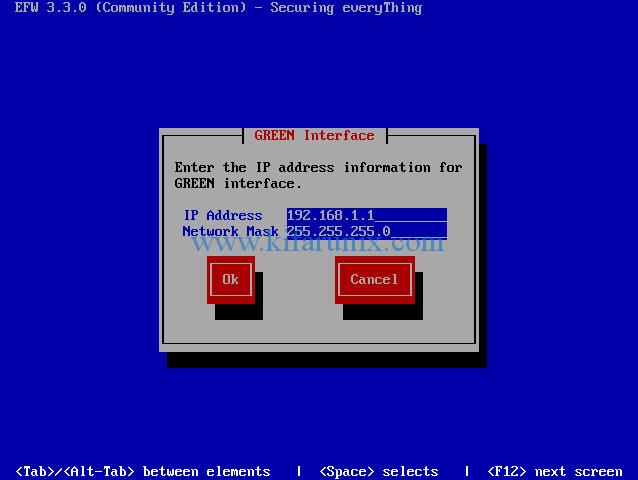 Once you are done with network settings, press Enter to run post installation tasks and install EFW on VirtualBox.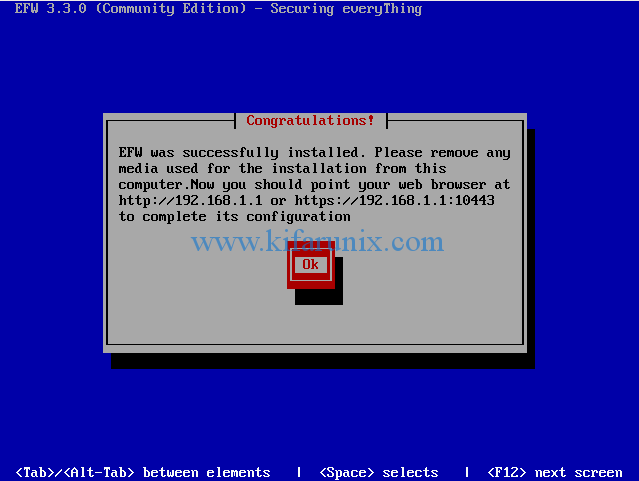 Once the installation is done, press Enter to reboot the EFW virtual machine. When it boots up, it presents to the GRUB menu. You can press Enter to boot the default EFW OS.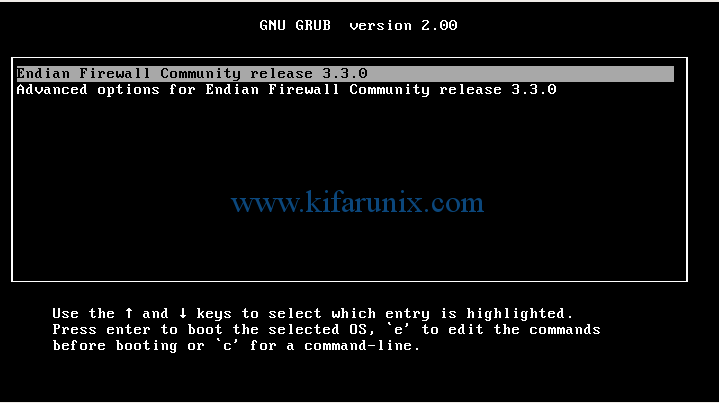 Once EFW boot is complete, you should be able to see the screen presenting you with different menus as shown below.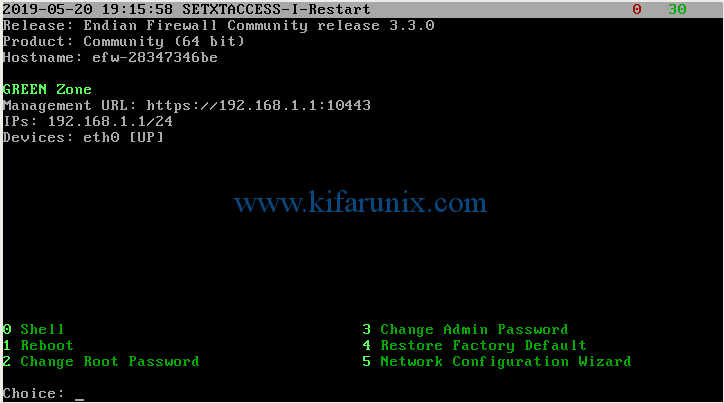 You can select any option to perform a specific task as indicated. Proceed to the Next page to complete the installation and configuration of EFW.
EFW initial Configuration
To complete EFW configuration, login via the web management interface, using the address https://<your-efw-ip>:10443 from a server that is connected to the same internal network.
Configure Client Network Settings
In this guide, we are accessing our EFW from an Ubuntu 18.04 system whose network is configured as shown below;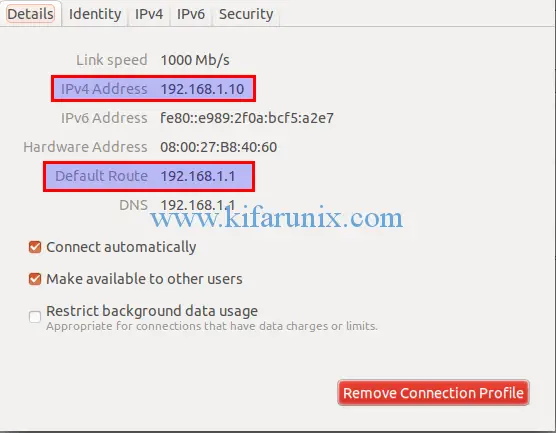 To verify that you reach the Endian Firewall from the client system, you can try to ping it as shown below;