In this tutorial we are going to learn how to install and Configure Nagios Core From Source on Ubuntu 18.04 for server resource consumption and availability monitoring.
In our last tutorial, we covered how to Install and Configure Nagios Core from Ubuntu repositories.
How to Install and Configure Nagios Core From repo Ubuntu 18.04
Install and
Co
nfigure
Nagios Core From Source  on Ubuntu 18.04
Installation from the source ensures that we get latest features, security updates, and bug fixes. Follow through this tutorial to build Nagios and its components from the source.
Install the necessary Nagios build tools and development libraries
apt install -y autoconf gcc libc6 make wget unzip apache2 php libapache2-mod-php7.2 libgd-dev
Download the source code of the latest stable release of Nagios Core from here.
wget https://assets.nagios.com/downloads/nagioscore/releases/nagios-4.4.1.tar.gz -P /tmp
Compile and Install Nagios
cd /tmp
tar xzf nagios-4.4.1.tar.gz
cd nagios-4.4.1
./configure --with-httpd-conf=/etc/apache2/sites-enabled
make all
Create a user and a group that will be used to run Nagios. Add apache user to the nagios group
make install-groups-users
usermod -aG nagios www-data
Install Nagios Core binaries, CGIs and HTML files.
make install
Install the init scripts for Nagios services/daemon
make install-daemoninit
Install and configure permissions on the directory for holding the external command file
make install-commandmode
Install sample Nagios configuration files in /usr/local/nagios/etc
make install-config
Install and configure apache web server configuration files and enable apache rewrite and cgi modules
make install-webconf
a2enmod rewrite
a2enmod cgi
If firewall is running, allow apache through it.
ufw allow Apache;ufw reload
Create a user account for logging into the Nagios web interface.
htpasswd -c /usr/local/nagios/etc/htpasswd.users nagiosadmin

where nagiosadmin is the username for logging in to Nagios Web interface and file htpasswd.users stores user credentials. When adding more users, omit option -c to avoid replacing existing users.
Start and enable both Apache and Nagios services as follows:
systemctl start apache2;systemctl enable apache2
systemctl start nagios;systemctl enable nagios
Now access the Nagios web interface using the following URL, http://<ip-address-OR-hostname>/nagios.
You will be prompted to login. So login with admin user created above.

Once you login, this the Nagios dashboard that welcomes you.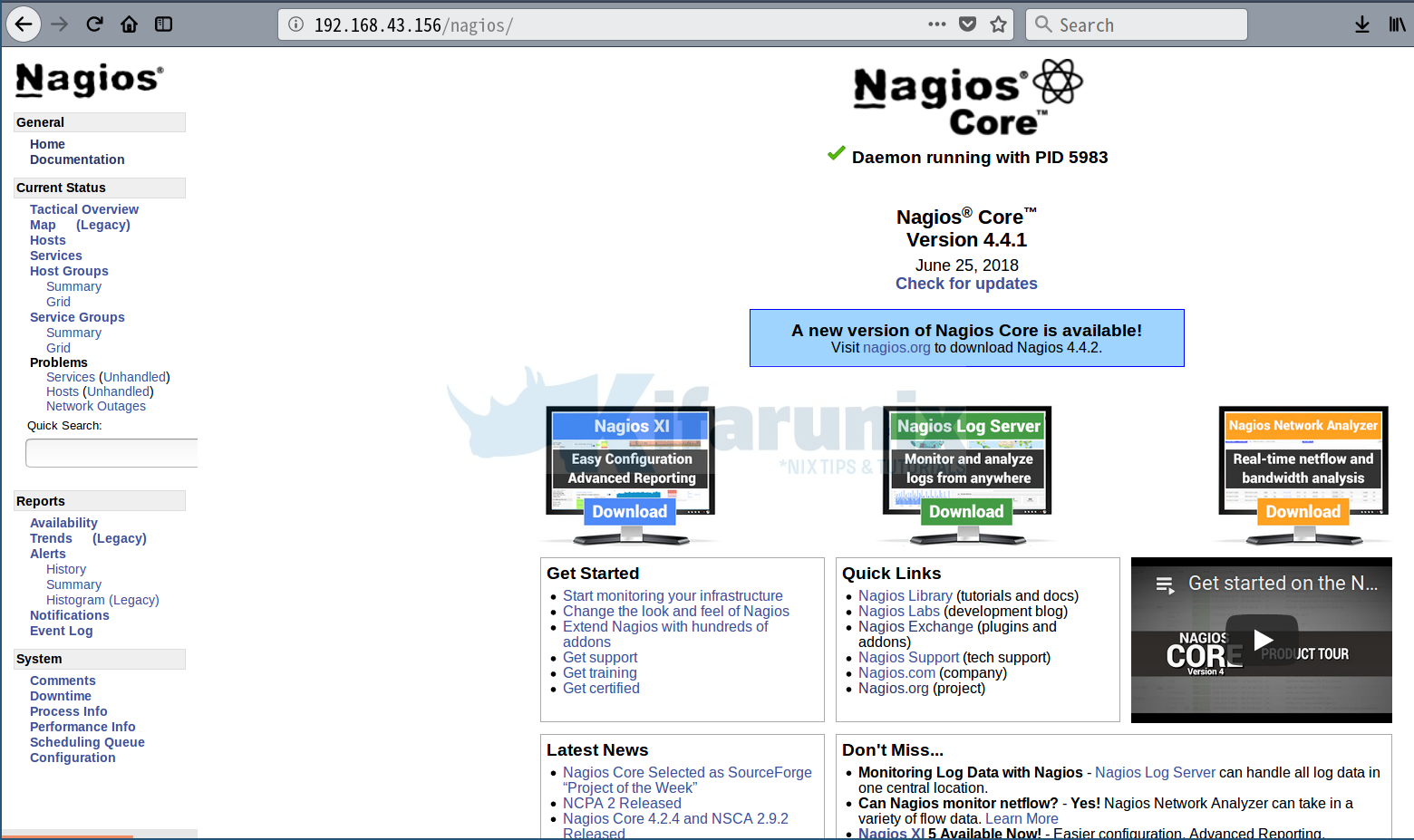 By default, Nagios just monitors itself. See other Nagios related tutorials by following the links below;
Congratulations! You Nagios server is now ready and running. That marks the end of our on how to install and configure Nagios core from source on Ubuntu 18.04.
Add Hosts to Nagios Server For Monitoring
Install Nagios NRPE Agent on CentOS 8
Monitor SSL/TLS Certificates Expiry with Nagios
Configure Nagios Email Notification Using Gmail