In this tutorial, we are going to learn how install Zoom client on Ubuntu 20.04. Zoom is an easy to use and secure communication software that offers video conferencing, online meetings, chat, mobile collaboration and webinars across multiple platforms: mobile devices, desktops, telephones, and room systems. Find out more on features page.
Install Zoom Client on Ubuntu 20.04
Installing Zoom Client on Ubuntu 20.04 is as easy as downloading the DEB binary installer and executing it in a number of ways as described below;
Download Zoom DEB Binary Installer
Grab the Zoom binary installer for Ubuntu from the Zoom download center. Select Ubuntu as the Linux Type, 64 OS architecture and version 14.04+, click download button to grab the binary installer,
Also, you can easily grab the latest Zoom installer by executing the command below;
wget https://zoom.us/client/latest/zoom_amd64.deb
Installing Zoom Client on Ubuntu 20.04
Once you have the binary installer, there are different ways in which you can install Zoom client on Ubuntu 20.04.
Using a Graphical Installer
To install Zoom using a graphical installer, open the file manager and navigate to where you saved the zoom installer.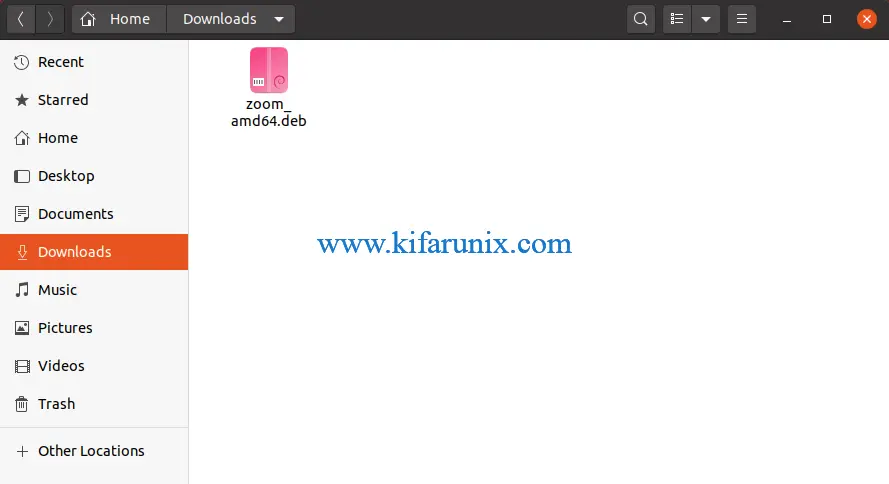 To run the installer, simply right click on it and choose Open With Other Application and Choose Software Install or simply choose GDebi Package Installer if you have Gdebi installed (apt install gdebi). You can as well double click it to run the installer automatically.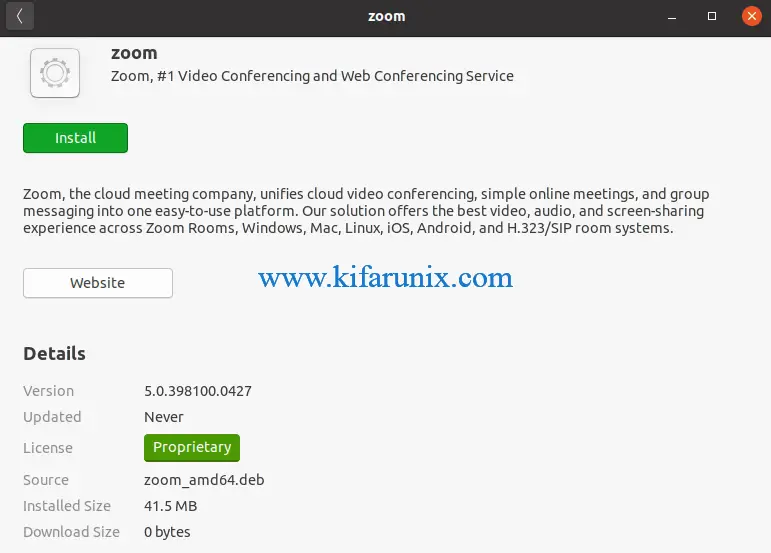 Click install button to install Zoom on Ubuntu 20.04
Before the installation can proceed, you are prompted to authenticate. Ensure that the user your installing as has sudo rights.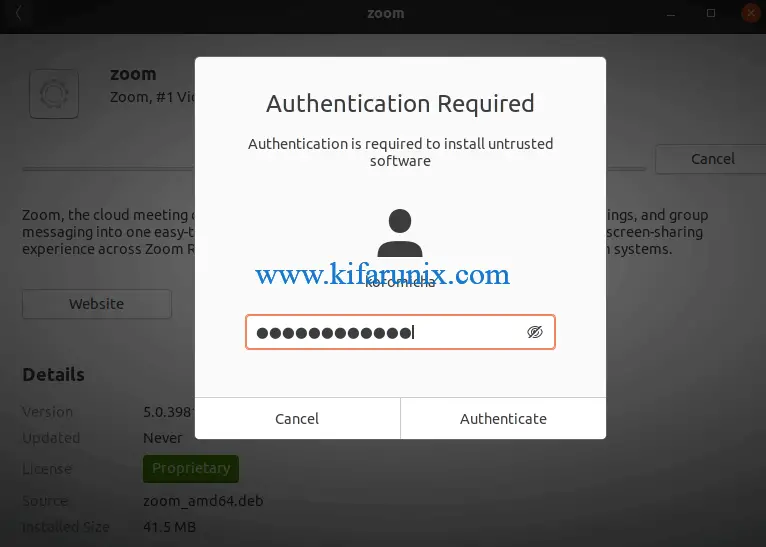 Authenticate and proceed with installation.
Command Line Installation
If you are terminal centric sort of a guy, then this is for you. With command line installation, there are two tools that you can use to install Zoom.
dpkg command
apt command
Both of these commands are Debian package managers and can be used to install, remove and manage debian packages via the command line.
However, the difference comes in how they handle package dependencies issues. While apt package manager automatically downloads and installs all the required package dependencies while installing a package, dpkg command doesn't and you have to manually install the required dependencies yourself.
Install Zoom Client using dpkg package manager
To use dpkg command for installation, simply navigate to where you saved your DEB binary installer, for example downloads directory in our case;
cd /home/koromicha/Downloads
The run the installation of Zoom client;
sudo dpkg -i zoom_amd64.deb
Any dependency issue can be fixed by running the command;
apt install -f
Install Zoom Client using APT package manager
To install the zoom client using apt package manager and handle any would be dependencies, simply execute the command below. Replace the path, /home/koromicha/Downloads/, accordingly.
apt install /home/koromicha/Downloads/zoom_amd64.deb
Launching Zoom on Ubuntu 20.04
Once the installation is done, you can launch zoom from the terminal or from activities.

And there you go.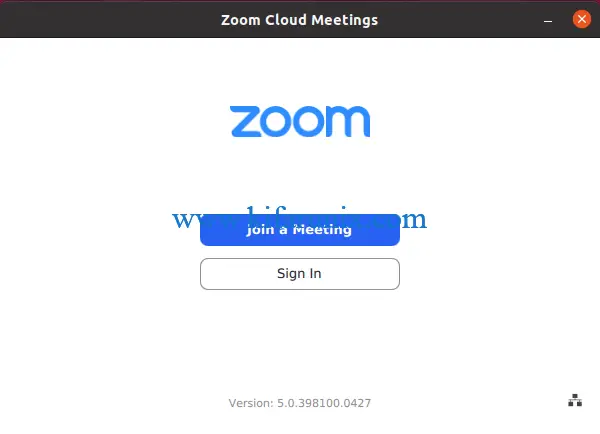 You can now join the zoom meeting if you have the meeting ID already, or sign in to zoom account. That marks the end of our guide on how to install Zoom Client on Ubuntu 20.04. Enjoy!
Related Tutorials
How to Install Zoom Video Communications Client on Ubuntu 18.04 LTS
Install Microsoft Teams Client on Ubuntu 20.04/18.04
Install Apache Guacamole on Ubuntu 20.04