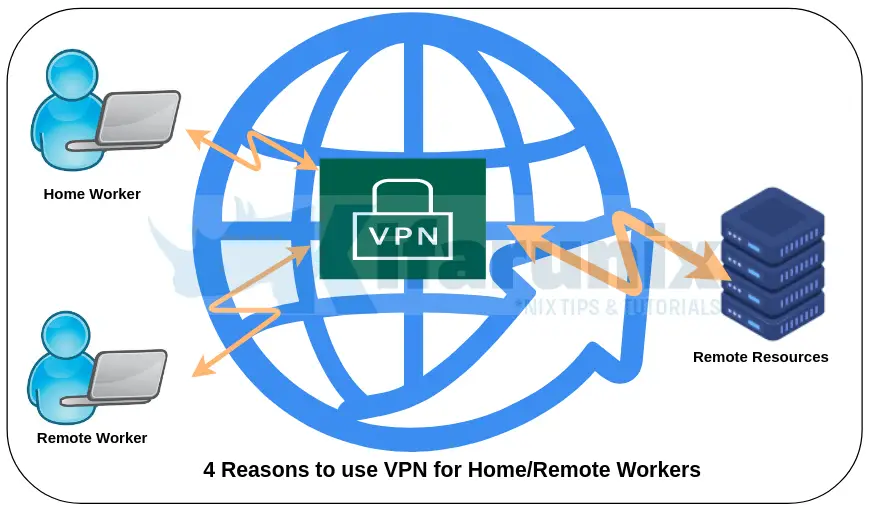 Technology has made it easy for people to work from anywhere in the globe, even if they have never met their employers. And while some companies may not consider this option, sometimes employees end up carrying home some unfinished projects or tasks to handle them from there.
All these people working away from the office have access to sensitive information about the companies they are working for — and it is risky if no security measures are put in place.
Cybercriminals are inventing new ways to breach your privacy and steal valuables from you or your company or conduct other criminal deeds using the stolen identity. Remote workers, therefore, need a security system to mitigate such risks.
A virtual private network (VPN) is one of the most trusted security systems in case a company has people working away from the office. It acts as a secretive tunnel, which hides the activities you are doing with your devices wherever you are. Nobody outside can have access to it.
Your remote employer can provide a VPN server, especially if the company has numerous remote workers. Otherwise, you can subscribe to a VPN service from a third party, which is also a viable option. There are plenty of affordable VPNs out there — you only need to apply due diligence to get the right one for you. Premium VPN services cost money — so, why should you spend on this? Here are four reasons why every home or remote worker should use a VPN.
4 Reasons Why Home and Remote Workers Should Use a VPN
1. A VPN Makes It Easy to Access Data and Content From Anywhere in the Globe
If you are working away from the office, you need access to the company data so as to complete your projects or assignments from wherever you are. At the office, the company may have put measures to protect their data from being hacked or accessed by cybercriminals out there. But what about those working away from the office?
The fact is that most companies apply geolocation to ensure that only authorized employees are accessing their data and from the location they are allowed to. If they find that you are accessing data from a different location than the authorized one, they will restrict your access immediately. The company is not rude, but they are trying to protect their privacy and enhance security.
This restriction could hinder a remote worker from doing their job diligently because they do not have access to the necessary data. This is where a VPN comes in handy — a perfect solution to the problem. You end up gaining access to the company's content and still protect its privacy.
The VPN server provides you with an IP address that corresponds to the location of your company rather than your current location. This makes it easy to access data in the company from wherever. You can use the same VPN to connect to your PC in the office.
2. Using a VPN Is More Convenient Than Commuting
Maybe you are tired of getting early every day, only to get to the office exhausted and frustrated by the crazy traffic. The good news is that there is a solution to this problem. If your company has the option of allowing employees to work from home rather than commuting every day, then go for it.
However, you must be ready to pay up for a VPN service. Most people are working from home and even abroad comfortably by using a VPN. It is not only convenient but also cheaper. If you are sick and cannot go to work, then a VPN is the only solution here; otherwise, you might lose your incomes.
If you are lucky to have your company's IT department configure A VPN connection from the workplace to your home device, the better. As long as you have protected your employer's privacy, then working as a remote employee is the best option.
3. A VPN Comes With Ultimate Privacy
One good thing about working remotely is that you can grind from anywhere, including a coffee shop, the airport, a shopping mall, or a hotel, among other places. Unfortunately, you might have an internet connection always, and the free Wi-Fi provided sounds like the only option you have on these spots. The big question is, is this connection safe?
Most of the time, free Wi-Fi connection comes with a significant threat to the users — perpetrators are using it to trick potential victims. They use sniffer software on their devices to capture the unencrypted data you are working on. You do not want to lose your sensitive data or that of an employer simply because you connected to a public Wi-Fi.
Therefore, as long as you do not have control of the internet connection you are using, you have to encrypt your data using a VPN. Install a VPN on every device you are using. It will perfectly protect your data from getting leaked to cybercriminals.
4. A VPN Guarantees Your Flexibility and Productivity
Working remotely comes with great flexibility for those who are careful. In fact, most freelancers enjoy their incomes more than those who commute to the office every day. Remember, you can travel any time you want without losing your income because you are still working. The only time they end up losing everything is when they do not pay special attention to their security and privacy.
However, you do not need to worry about this because a VPN upholds your flexible working schedule. And part from ensuring privacy from wherever you are, a good VPN will also increase the speed of your computer.
You might have traveled to a place where the connection is a hitch, and this can significantly derail your daily output. With the right VPN, it becomes easier to upload and download content from a remote website. Also, when you are not worried about your privacy and security, it means you remain focused, hence, improved productivity despite working away from the office.
The Bottom Line;
Are you contemplating on becoming a freelancer but are worried about privacy, security, the cost involved, productivity, or how you will access data necessary for your work? Most successful remote workers were concerned like you, but they learned the secret — which is relying on an excellent VPN service. A VPN solves all these worries, as we have seen here.
Related Tutorials
Setup IPSec VPN Server with Libreswan on CentOS 8