Last updated on January 13th, 2021 at 03:24 am
Are you working on a research paper or an academic article? Well, you may need an automated way of managing your references and citations. Mendeley is a handy tool which enables you to save, manage and synchronize your citations across many devices. Mendeley can work effectively as a plugin for common word processors such as Microsoft Word and LibreOffice and browser add-ons. It is free, open-source, and cross-platform as compared to its closest alternative. In this tutorial, we will learn how to install and use Mendeley in Ubuntu 20.04 and use it with LibreOffice Writer and Firefox browser.
Install and Use Mendeley in Ubuntu 20.04
Prerequisite
Before we proceed, you need to have an account with Mendeley. The account is free, and the process is straight-forward. This is necessary to enable synchronization across devices and as well as being a repository.
Download Mendeley Installer
As a good practice, create a folder, preferably on your home directory, where you can save the Mendeley materials.
sudo mkdir $HOME/Mendeley
Mendeley can be downloaded from the official site or run the following command to download the 64-bit version for Ubuntu and other Debian derivatives;
sudo wget https://desktop-download.mendeley.com/download/apt/pool/main/m/mendeleydesktop/mendeleydesktop_1.19.4-stable_amd64.deb -P $HOME/Mendeley
Install Mendeley in Ubuntu 20.04
Navigate to the directory where you downloaded the file into.
cd $HOME/Mendeley
Install the .deb file in the directory using the apt install command;
sudo apt install ./mendeleydesktop_1.19.4-stable_amd64.deb
The use of apt instead of dpkg to install Mendeley is to ensure some extra packages needed to install Mendeley are auto-installed. Such package dependencies include;
gconf-service gconf-service-backend gconf2 gconf2-common libgconf-2-4
  libpython2-stdlib libpython2.7-minimal libpython2.7-stdlib python-is-python2
  python2 python2-minimal python2.7 python2.7-minimal
If there is a dependency issue or there is an installation hitch, the above packages can be installed individually. Running the command below should however fix some issues.
sudo apt --fix-broken install
After installation, Mendeley desktop will appear in the list of installed apps. Click to open.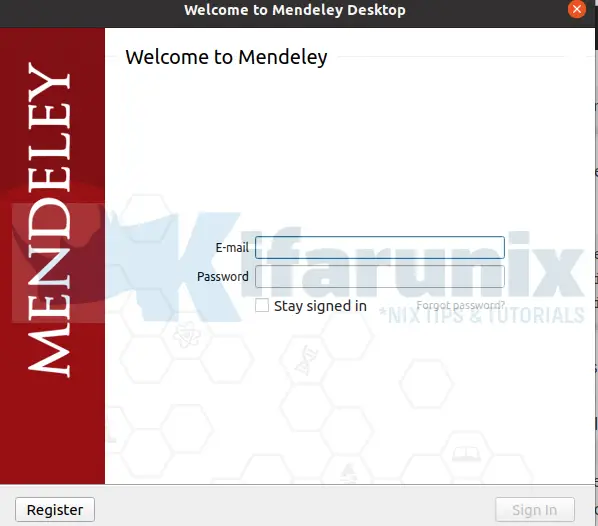 Fill your credentials you created earlier and sign in. You will be directed to your home page.
You will also be prompted to install LibreOffice plugin if you have LibreOffice package installed. Click on Install now to proceed.
If successful, you will be presented with a few start-up tutorials, which you can view or close.
Adding reference materials to Mendeley
You can add your own reference material to the Mendeley repository, which you will cite in your article. For example, if you have an article on Cloud security, you can search for your article from Google Scholar or any other source. As an example, we will use this article1.
Download the article to your PC.
Now open Mendeley and add the article by clicking on Files>Add Files… and navigate to where you downloaded the article. You will now see an entry in your All Documents section. We can add as more documents and folders as you can. Add a second article2, which we will be using later.
Adding citations and bibliography in LibreOffice Writer
When you open LibreOffice writer after installing Mendeley, you will find new menu as shown below;

Let's start citing our articles, as shown in the figure below;
Click on Insert citation and search for article title or author name to cite your claim. In our example we have used article one.
Organizations are leveraging on the use of cloud computing to reduce on cost (Al Morsy, Mohamed Grundy & Ingo, 2010)
You can list the authors and show the publication date by selecting insert citation the check on suppress author
According to Behl (2011)⁠, securing cloud is …
You can also use multiple sources to cite a piece of evidence;
Organizations rely on cloud for reduced cost and improved security (Al Morsy et al., 2010; Behl, 2011)
Note: The default citation style is APA 7th edition. You can change the style to your requirement. It also includes the bespoke requirements of most universities and academic institutions that have accounts on it. So you can set your style too, for example, Oxford University if required!
Generate bibliography
On your document, click on Insert Bibliography. This will generate a list of references which you cited.
Al Morsy, Mohamed Grundy, J. M., & Ingo. (2010). An Analysis of the Cloud Computing Security Problem Mohamed. Apsec.
Behl, A. (2011). Emerging security challenges in cloud computing: An insight to cloud security challenges and their mitigation. Proceedings of the 2011 World Congress on Information and Communication Technologies, WICT 2011, 217–222. https://doi.org/10.1109/WICT.2011.6141247
Install browser add-on
You can cite a URL directly from the browser by synchronizing with your Mendeley account. In Firefox, click on Options(three horizontal lines)>add-ons then search for Mendeley and install. While on the site you want to reference, click on the Mendeley icon on your browser (near to options). After sign in, click on add to Mendeley to add the source. On your Mendeley desktop. Click sync to update the added source. Details will be added automatically, as shown below. In case it does not, you can edit them manually.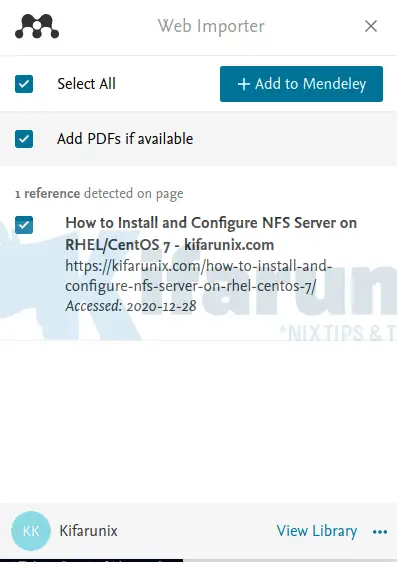 You will see the added artical in the list.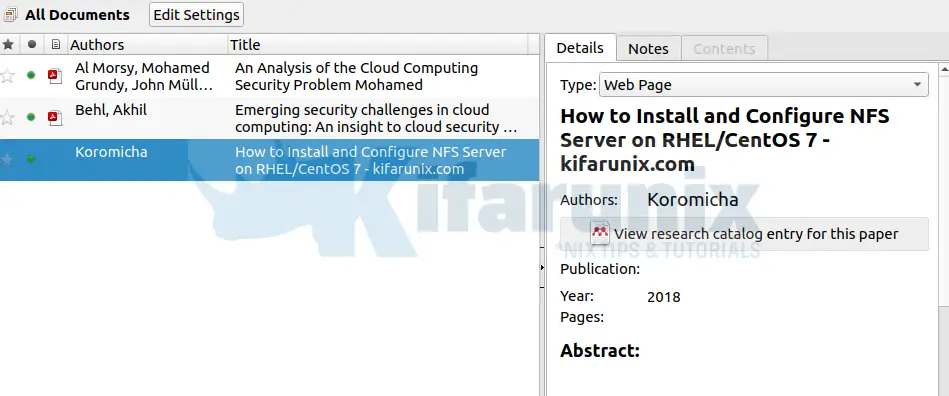 Uninstall Mendeley
Finally, if for some reason you want to remove Mendeley desktop, you can run the following command.
sudo apt remove mendeleydesktop
That's all on our tutorial on how to install and use Mendeley in Ubuntu 20.04.
Other Tutorials
Install NetBeans IDE on Ubuntu 20.04
Install Mantis Bug Tracker on Ubuntu 20.04
Install Bugzilla Bug Tracker on Ubuntu 20.04