Plagiarism is a common problem for writers today. So, how do you go about checking and removing it? 
It's common knowledge that websites get penalized by Google if plagiarized content is found on them. However, when there are millions of pages with plagiarism, it should tell you not everyone is taking it seriously.
According to a study, around 1.5 billion web pages, or 30% of all internet web pages, have duplicate content. These are the same pages that get no organic traffic from Google—or any other search engine for that matter.
That's why it's imperative to avoid becoming one of such websites and ensure the originality of your content. But, like many things related to SEO, this one, too, is easier said than done. Many people go about checking plagiarism by searching their sentences on Google.
While others pay a hefty amount to use paid tools. So, is there a way around that for writers who cannot afford that? There definitely is, and we'll be talking about them in-depth. Therefore, let's get started. 
Why Is It Important To Remove Duplicity? 
Plagiarism removal is one of the necessary practices that every writer needs to learn. From academic writing to professional settings, plagiarism is a fraudulent attempt at easing your way out of creating original content. 
Therefore, writing communities around the globe have no tolerance for plagiarism. In the world of SEO, some of the most common drawbacks of plagiarized content can be as follow:
Never become a ranked page on SERP (search engine results page)
Lose all credibility, or don't generate any 
Lose your followers/target readers
Harm established online presence 
Risk legal troubles
These are only some of the implications of using plagiarized content. However, plagiarism itself can be of many different shapes and sizes, such as:
Direct or complete plagiarism 
Auto or self-plagiarism (duplicating your own previous content) 
Accidental or unintentional plagiarism 
Mosaic or patchwork plagiarism
Each one of these types are equally harmful. While patchwork and direct plagiarism are considered more severe types, the others aren't too far behind. In simple words, it must be your priority to remove all kinds of duplicity from your content. 
3 Things You'll Be Needing 
Before you get started with the process, you're going to need a few essentials (three exactly). These essentials are tools and, well, a simple household object. Here are three things you will need:
To find duplicity in your content, it's imperative that you pick a tool that allows you to find it. Why do you need this tool? Because a plagiarism checker makes it a lot easier for you to detect any plagiarism than doing it manually.
A tool simply allows you to copy and paste your content, then detect plagiarism by scanning the internet and various other databases. 
Once you detect plagiarism, you will have to rewrite it to remove plagiarism. However, if duplicate content is stretched over hundreds of words, then you'll need a tool to assist you. 
Therefore, you will have to pick a paraphrasing tool that allows you to rephrase at least 500-1000 words. 
A Notebook/Anything To Take Notes 
A notebook and a pen, or any notepad-esque tool, which allows you to take notes. Why is this important? Because once you find the plagiarism source, you will have to take notes about the specific chunks of content to rewrite—and the sources that you will have to cite. 
5-Steps To Check And Remove Duplicity In Your Content 
Removing duplicity from your content is a step-by-step procedure. The first step is, of course, to find the duplicity in your content. For that, we'll be needing a tool, as mentioned above. Then, we have to devise an approach that helps us remove the detected plagiarism. 
This approach will include a paraphrasing tool and the citation of the original source. So, to help you find and remove duplicity, we've devised a simple yet effective 5-step strategy. This will help you understand how to use the tools involved, then remove plagiarism. So, let's begin:
Check For Plagiarism
To remove plagiarism, we first must find it in our content. Now, it's suggested that you check your whole article in an online plagiarism checker. However, most offer around a 1000-word limit, so you might have to pick suspected pieces out of your content and check them.
In this case, we're only checking this specific chunk of around 60 words. So, once it's pasted, click on "check plagiarism" and let the tool find the duplicity in it.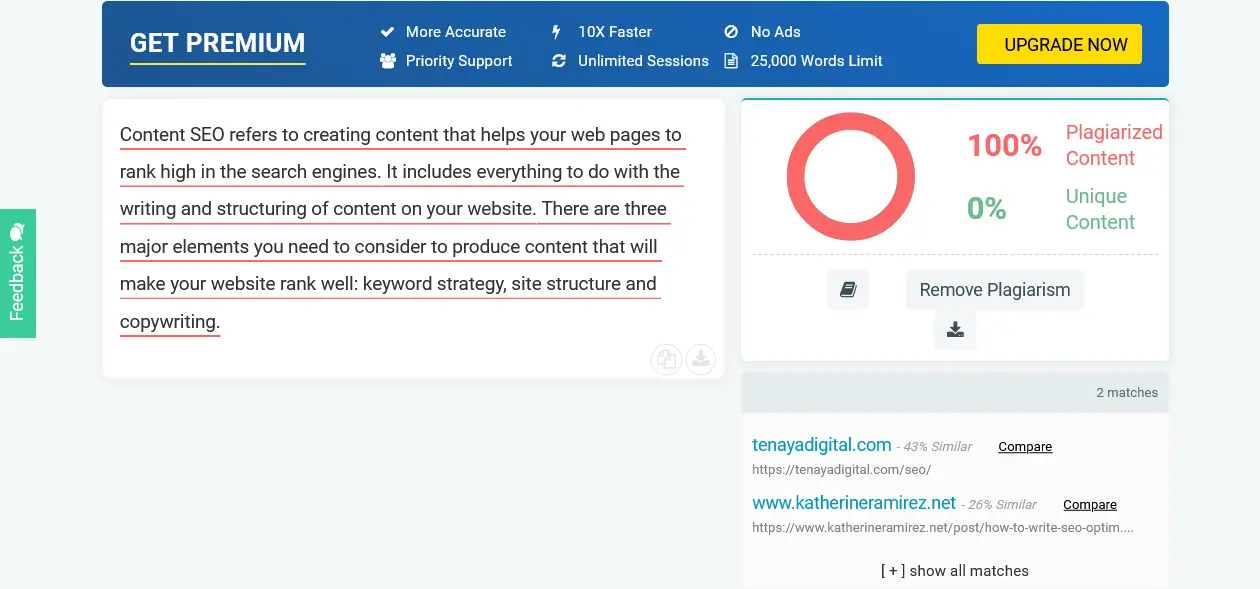 As expected, this particular bit was 100% plagiarized. In other words, the writer didn't use their own words or ideas and copied everything word-by-word. This should help you understand what to look for when finding duplicity.
Analyze The Source
Now that we've detected plagiarism in our content, it's imperative that we find the source of the original content. Why is that important?
Because it will help us cite the source
Read the original content and paraphrase accordingly
To achieve these two objectives, we will now head to the sources provided by the plagiarism checker: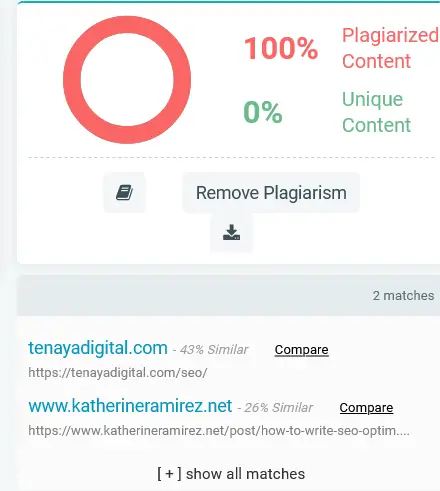 We can see the two linked URLs, which happen to feature the original content. As you can notice, the content was taken from two separate domains. Therefore, we'll be analyzing each one before picking the one to cite as our source.
Paraphrase Your Content 
The next step of this process is to paraphrase your content. Since we picked a paraphrasing tool as our second most essential element of this process, we'll use it. However, the idea of paraphrasing should have two objectives too, such as:
Paraphrase to change context, not meaning
Paraphrasing to use original words, terms & phrases
Since you need to keep the general idea intact, we must keep the original meaning unbroken too.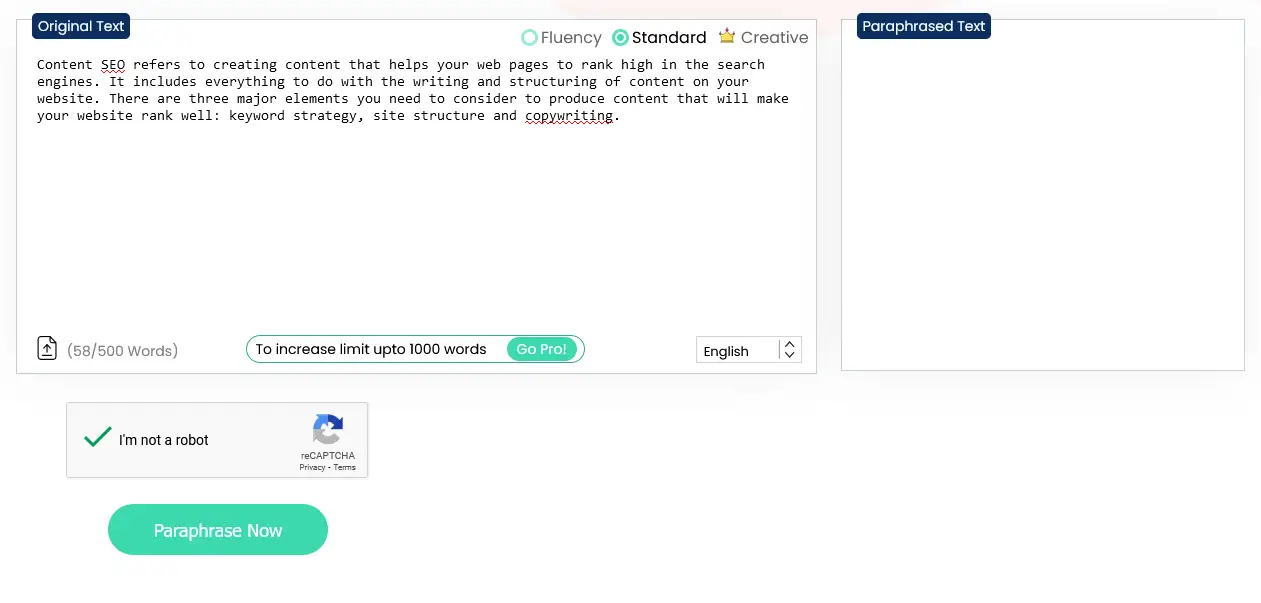 Therefore, we selected the "Standard" content tone upon pasting the content in this paraphraser. Then, let it paraphrase our content: 
This screenshot was particularly difficult, but this length of content took around 5 seconds to complete. However, once it was completed, here's the outcome:

As you can see, the content has now deviated enough and is passable as our own wording. This process tells us how we should aim to paraphrase to remove plagiarism. 
Cite Your Source
The task isn't done yet, as we still have to cite the original source. Remember, the aim of paraphrasing content in long-form content is to make sure the original author gets the credit. Why is this important?
It will add credibility to your resume
Credit the original author/website 
Ensure the originality of your content
Therefore, once you are done paraphrasing your content, make sure you cite the source appropriately. 
Check Content Again 
The final step is to check the paraphrased content to ensure its originality. Now, we'll be pasting the rewritten content in the plagiarism checker once more: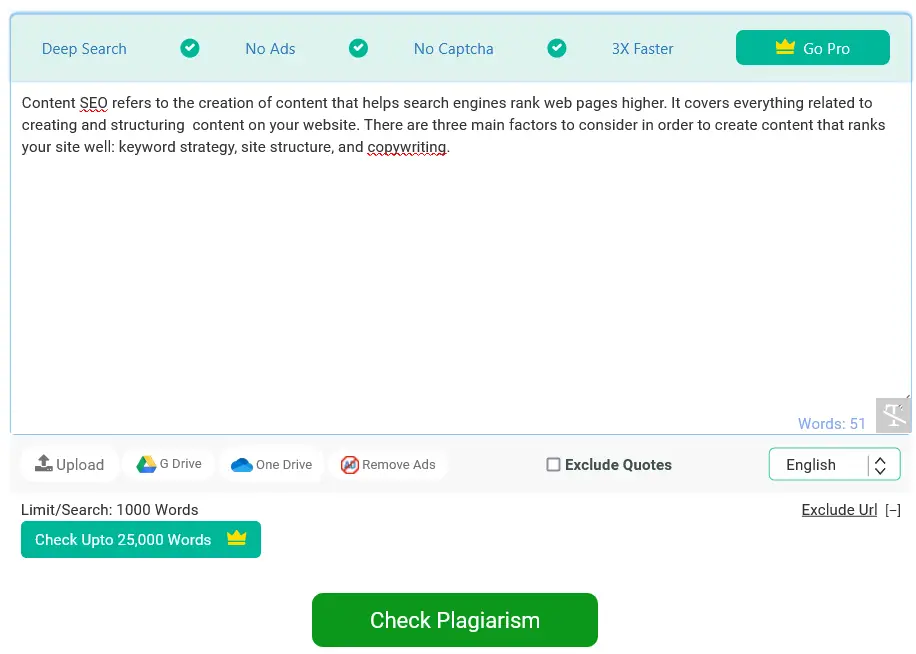 As you can see, the content changed by the paraphrase tool is pasted here.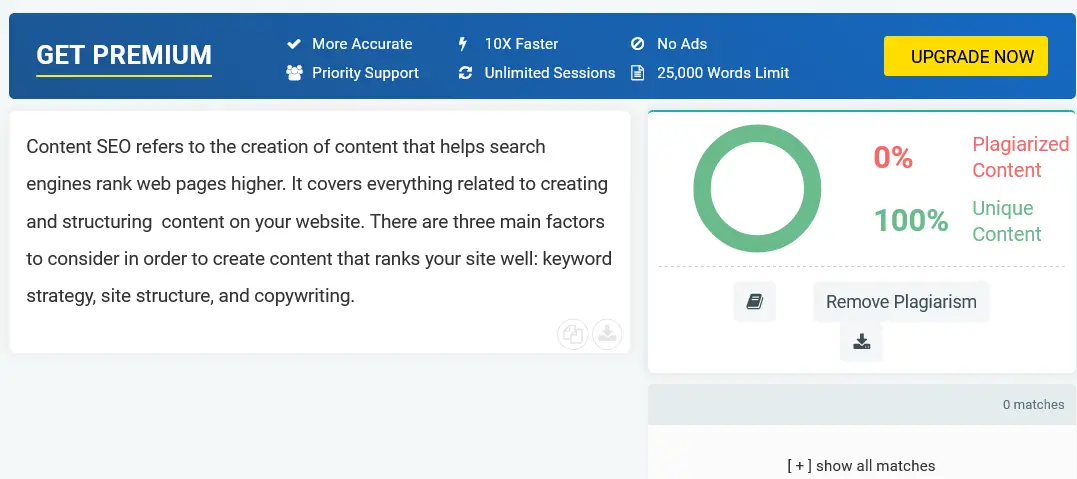 Upon rechecking, there's no duplicity now. This means our content is now 100% and ready to be used in our primary text alongside its citation.
Conclusion 
This procedure of removing plagiarism/duplicity from your content applies to any sort of content. All you need are two dependable tools, i.e., an online plagiarism checker and a paraphrase tool.