A paraphrasing tool can perform human tasks such as rewriting, removing plagiarism, setting the tone of writing, and translating the content.
The involvement of Artificial Intelligence in the form of rewriting tools has become very common. It saves time, resources, and enhances productivity.
One such legend is 'Paraphrasingtool.ai,' which has some truly exceptional and advanced features, all in one platform for all your writing needs.
In this article, I will discuss the details of the features, uses, and applications of this incredible online rewriter.
What is Paraphrasingtool.ai and How Does it Work?
Paraphrasingtool.ai is an AI-powered online tool that rephrases existing content to render it unique and comprehensive.
Utilizing NLP (Natural Language Processing) and ML (Machine Learning) algorithms, it comprehends, and restructures sentences, incorporates suitable synonyms, and eradicates plagiarism in the inserted content.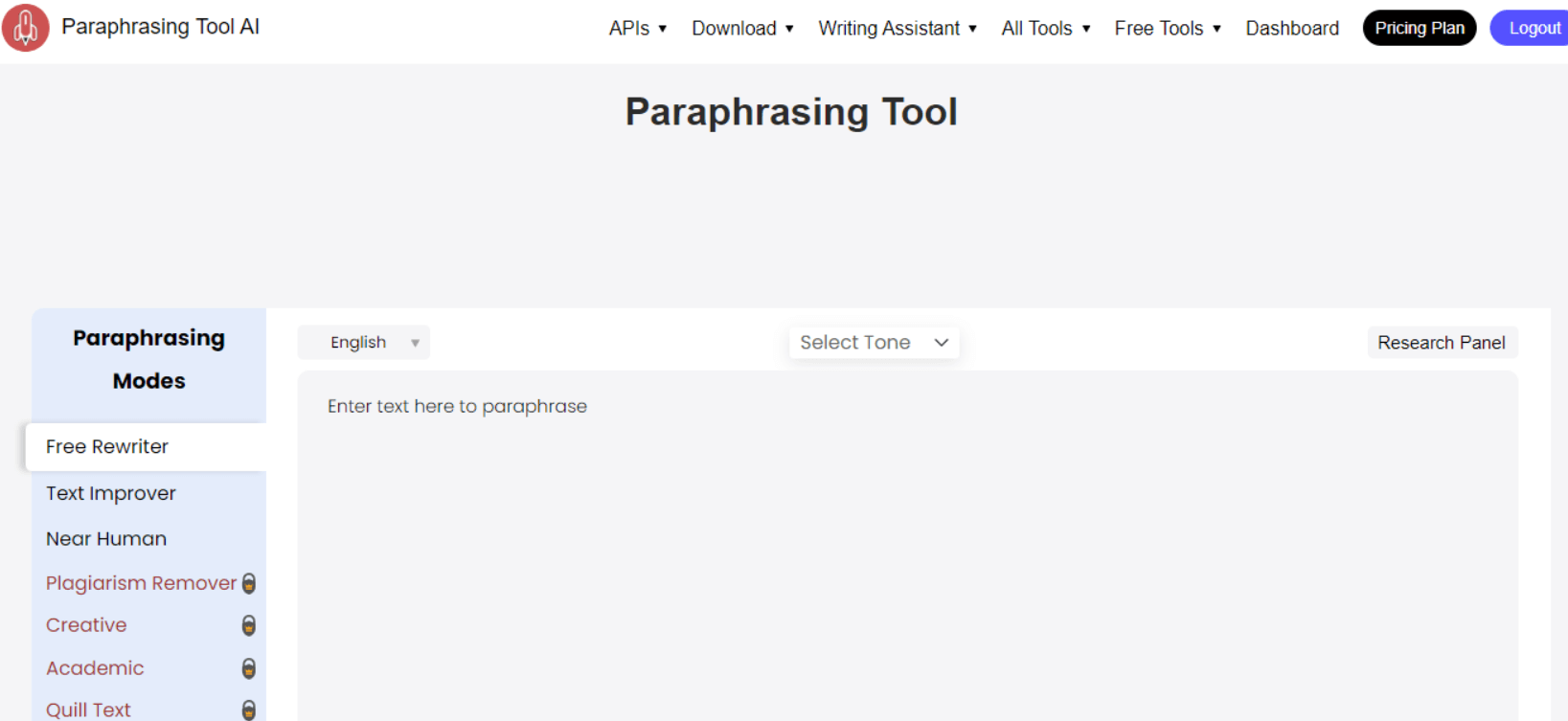 It transforms the old content into a more creative, clearer, and better readable form. Offering various paraphrasing modes, this rewriting tool provides versatility in content modification.
Equipped with multiple rewriting features, tones, and styles, the paraphrasing tool is suitable for students, researchers, content creators, bloggers, and other professionals.
How to Use Paraphrasingtool.ai?
Using this tool for rephrasing existing content is straightforward. There is no requirement for sign-up or CAPTCHA submission when utilizing the free paraphrasing modes.
However, if you decide to utilize premium features, logging in will be necessary. Here's a guide on how to use this online paraphraser:
Upload or paste the content
Note: It allows speech-to-text, audio-to-text, and image-to-text conversions.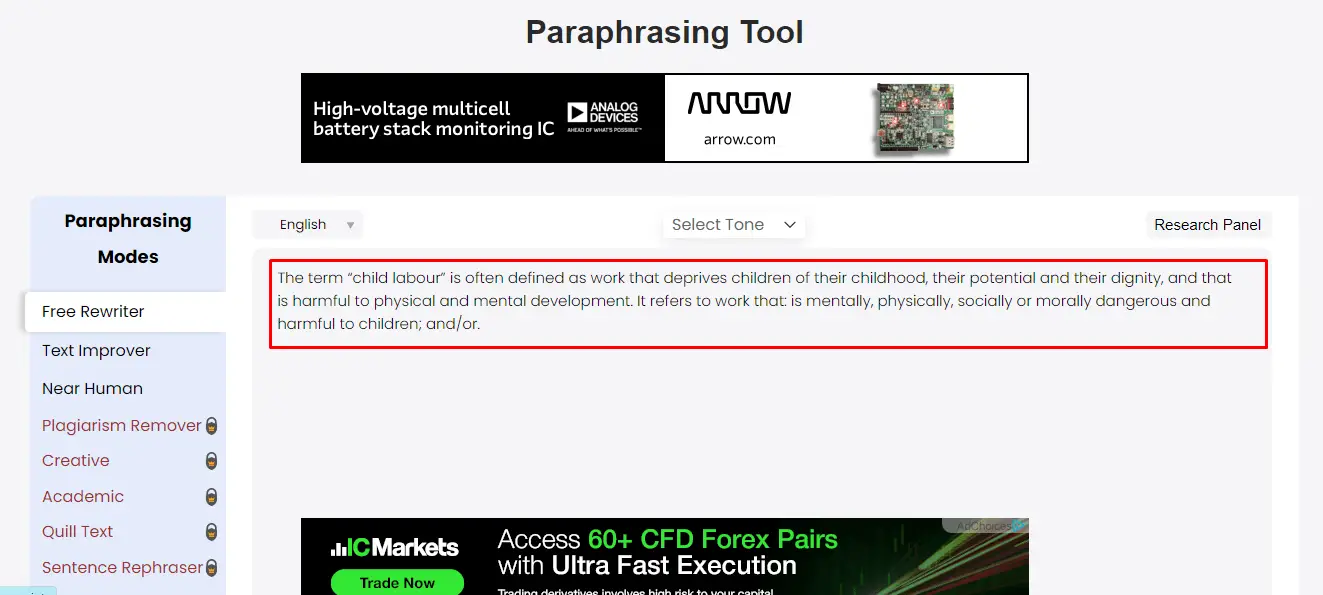 Choose the "Paraphrasing mode" and "Content Tone"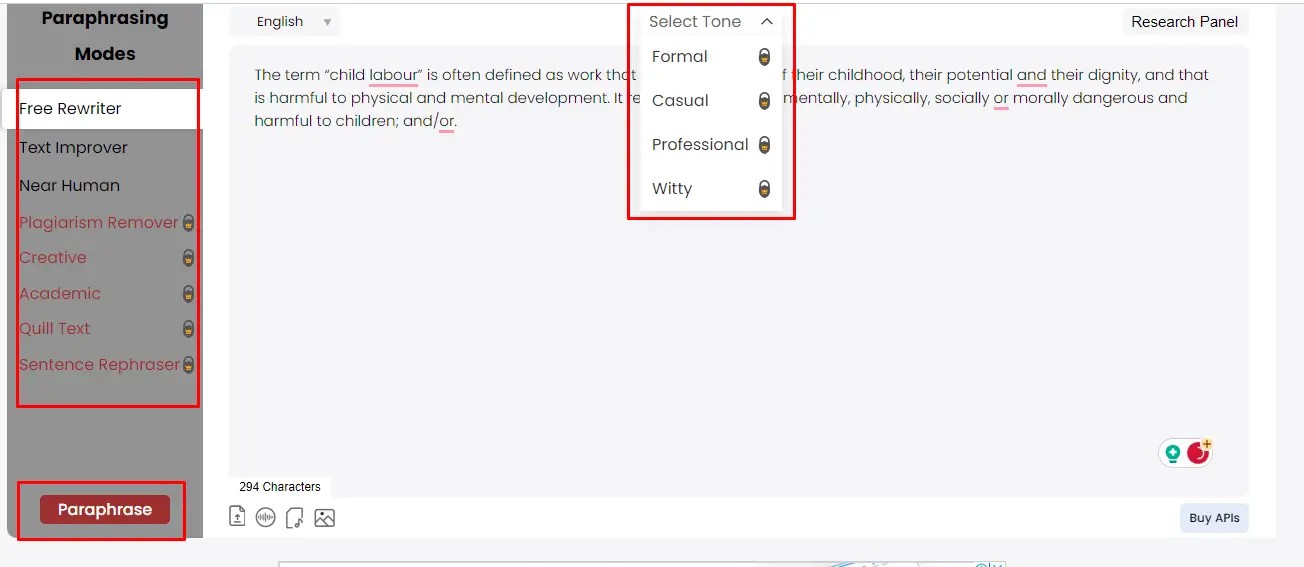 Enter "Paraphrase" to get the altered version of the content 
You can further adjust synonyms or alter sentence structure by choosing a suggestion. Select the word or sentence you wish to change. 
Technical and Non-Technical Features of Paraphrasingtool.ai
Paraphrasing tool is one of the most advanced and ideal for content writers. It is smart enough to predict the context of the text, choose the tone, and paraphrasing mode, and alter the content accordingly. The following are the important features of this AI rewriter:
Varied Paraphrasing Modes 
It offers 8 built-in paraphrasing modes, making it suitable for a diverse range of users. This tool allows you to choose the type of modification needed for your content. 
For instance, users can remove plagiarism, improve the text, or creatively rewrite the content. The following are the eight rephrasing modes of the paraphrase tools:
Free Rewriter
Text Improver
Near Human 
Plagiarism Remover 
Creative 
Academic
Quill Text 
Sentence Rephraser
Different Rewriting Tones 
Paraphrase tools offer 4 different rewriting tones to modify the content according to the target audience. 
Formal
Casual 
Professional 
Witty 
This AI tool features 30 different languages to paraphrase the content. This feature is extremely helpful in removing linguistic barriers, translating content from one language to another, and content marketing. 
The paraphrasing tool allows the user to insert the content to be paraphrased through the following ways:
Copy paste 
Upload file 
Image to text 
Speech to text
Audio to text 
Direct web research enables users to obtain information or data directly from the web without leaving the site. 
Users can summarize or read any published article or blog available online while paraphrasing. This feature is extremely beneficial in saving time for students and writers.
Individual Sentence Rephrasing 
Individual sentence rephrasing is one of the most exceptional features of the paraphrasing tool.
It provides the user with 10 possible alternative sentence suggestions for each of the selected sentences. The user can then choose the most relevant one.
It offers all relevant synonyms along with the meanings of the altered words in the paraphrased sentences, enabling users to choose the most suitable one based on the content requirements.
This feature is also helpful in improving users' vocabulary and saving them time, as they do not have to search for each word separately.
Easy to paraphrase, flexible, and adaptable features are a few reasons for its popularity among users. 
It focuses on ensuring a simplified conversion of the content regardless of the expertise of the users. 
Integration with All Browsers 
To facilitate its users, this rewriter offers integration with the most commonly used browsers and applications such as Chrome, Android App, MS Word, Opera, etc. 
It enhances its accessibility and rephrases the content directly from the preferred browser via paraphrasingtool.ai extensions.
Pricing Plan
The paraphrasing tool offers affordable pricing plans suitable for both student's and professionals' feasibility.
To access all the paraphrasing modes, various rewriting tones, and unlimited rephrasing, you can select any of the following pricing plans offered by the platform:
Monthly:  $7 for unlimited paraphrasing 
Yearly: $5 for unlimited paraphrasing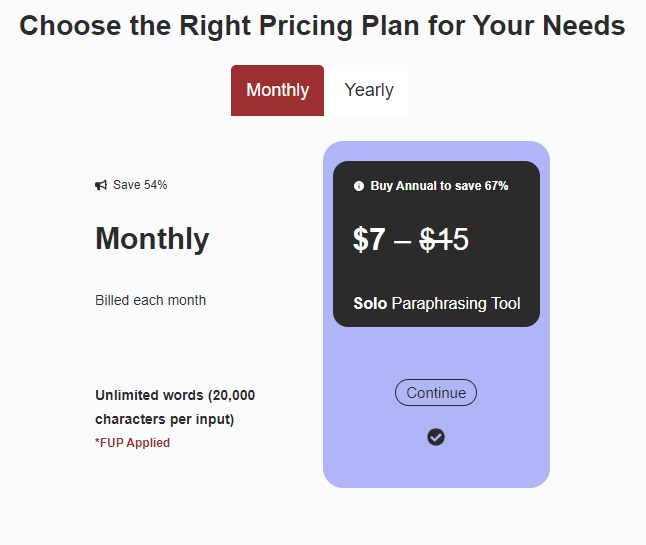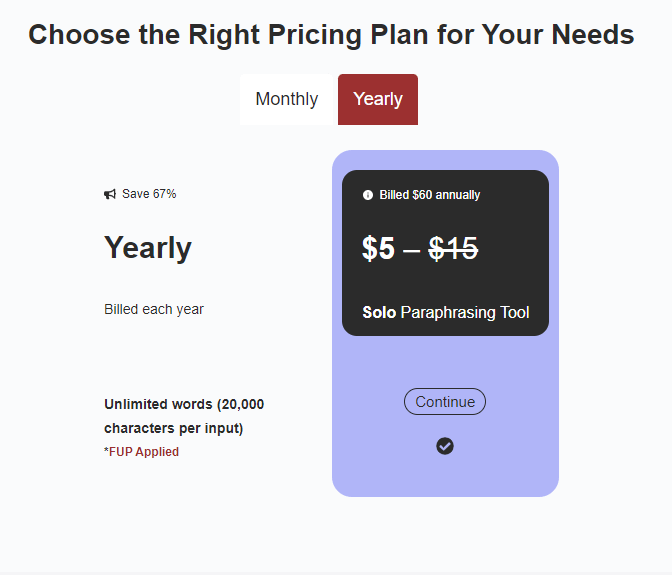 Applications and Benefits of Paraphrasingtool.ai
A paraphrasing tool provides writers with numerous benefits that are directly or indirectly helpful in saving one's money, time, and energy. Here are the benefits and applications of this amazing rewriter:
In both academic and web content, plagiarism is not acceptable. A paraphrasing tool allows the user to rephrase old content by restructuring sentences, adding synonyms, and simplifying the text without changing the core meaning.
By reducing the thinking and manual writing process, a paraphrase tool helps enhance the productivity of its users. It is also helpful in overcoming writer's block. 
Content refinement with the help of a paraphrase tool is one of the easiest methods. It rewrites the content to make it unique, sound creative, and engaging.
By allowing the modification of a piece of content in any language, the tool facilitates users, especially students, in cross-cultural communication by eliminating linguistic barriers. 
Content marketing & social media 
An online paraphrase tool helps write SEO-optimized, creative, keyword-oriented, and engaging content that can be used in social media marketing.
Students, educators, and researchers can benefit from multilingualism, web research panels, paraphrasing modes, and tones to rewrite research papers, assignments, etc.
Reducing human error and effort 
By correcting grammar, spelling, and punctuation errors in the paraphrased content, the tool serves to reduce human error in the content and improve its comprehension.
Summary
Paraphrasingtool.ai stands as the most advanced and efficient AI rewriter. Its name is earned through various paraphrasing modes, rewriting tones, multilingual capabilities, and multimodal input features.
Beyond its technical excellence, it remains user-friendly, provides basic paraphrasing for free, and suits professionals across diverse fields.
The modified content produced by this rephraser is both creative and unique, guaranteeing freedom from plagiarism. 
Therefore, this paraphrasing tool is ideal for elevating text fluency, readability, and overall quality.