Last updated on February 9th, 2023 at 11:21 am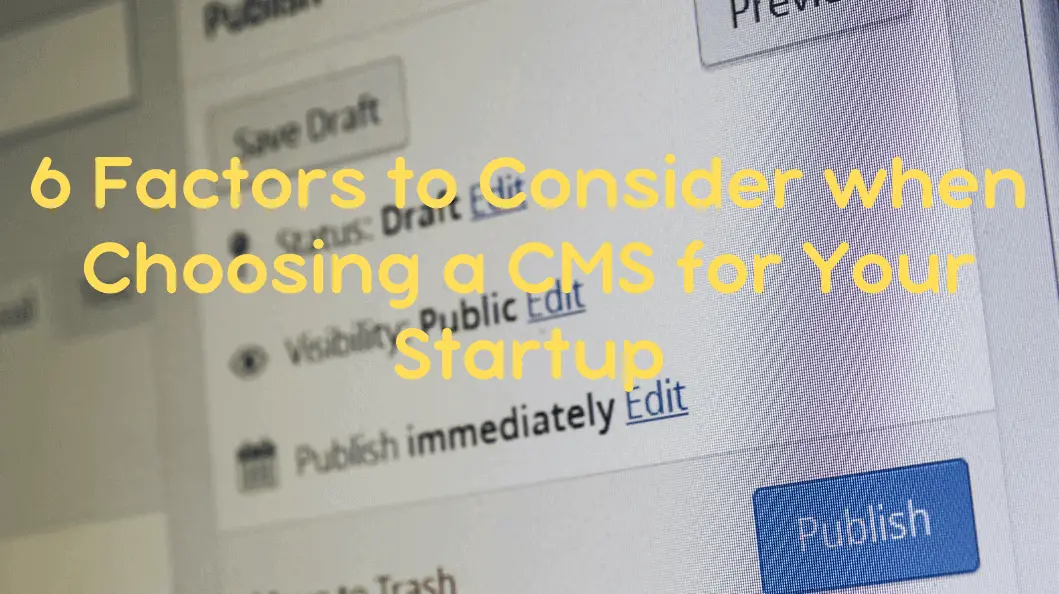 Never purchase a product simply because it has many features, as you may end up not using them all. That would be throwing good money away. The same holds true for a content management system; without a clearly defined set of needs, you may be tempted by unnecessary bells and whistles.
It's easy to spend tens of thousands of dollars on an enterprise-level system when an inexpensive Open Source CMS might have fulfilled your needs right from the start. Here are things to consider when getting a CMS.
1. Fundamental capabilities
People often assume that all content management systems (CMSs) have the same features, including the ability to produce, modify, and arrange pages and information. Although this is generally true, there is a wide variety of features (eCommerce, event tickets, multilingual support, support for numerous websites, etc.) that not all systems can handle.
Unused features aren't wasted processing power; instead, they're dead weight that drags you down and makes your system more complicated than it has to be. Creating a comprehensive list of your needs and wants from your CMS and planning for future needs will aid you in picking the best choice.
2. Ease of use
When most people think of a CMS, they see tools for writing, adding media, publishing, and otherwise managing blog entries. They incorrectly generalize that this is a feature of all CMSs and undervalue the system's overall utility.
Not all social media sites include a feature that lets you organize your posts into a tree structure. The majority of the subcategories for individual postings are time-based. Because of these functional restrictions, the interface can be kept straightforward and easy to learn. In other contexts, this is a challenge for most entrepreneurs or authors.
To get the most out of a content management system, you should prioritize its ease of use. Find out what your website needs most by asking yourself this question. What kind of content is uploaded, and how is it controlled?
The main functionality of so many content management systems is the ability to organize and modify your postings. However, many often fall short in terms of usability. How you utilize your website should guide how you manage these features after unwinding with your favorite online casino games on Springbok mobile.
Consider testing a CMS in a demo mode to see if it meets your needs. Because only then can you know for sure what works best for you.
3. Front-end user role management
Personalization that provides cutting-edge digital experiences is becoming the norm in a data-driven world. Visitors can receive personalized content depending on their credentials, cookies, or even just their site behaviors, with the support of real-time analytics on how they interact with your site.
Using a content management system (CMS) with front-end user role management, you can increase sales by tailoring what users see based on such factors.
4. Support and input
The availability of a customer support department is not a standard feature of all content management systems. Many free content management systems lack an official support feature. If something goes wrong, your developer is the first line of defense, giving them the freedom to do their work and learn. You could do the same with technical help; it's possible to find and hire developers who are available around the clock.
When using an open-source content management system, it is common for security patches and software updates to be developed and released, which you should always apply. In contrast, proprietary content management systems offer dedicated customer service and constant assistance around the clock. Some CMSs also provide chat and phone support when you upgrade to a paid plan.
No matter what content management system you end up picking for your site, you must always be on the lookout for potential problems and ready to deal with them as they arise.
5. Flexible
The presentation of material or operation of an application shouldn't be determined by technology, even if certain technological limits on how content is obtained and presented may have existed previously.
CMSs open to customization allow you to make your own unique layout. It also allows admins to customize the front end's look and feel to better fit their marketing and branding needs. Some of the most popular CMSs force unneeded restrictions on design and are rigid in how they deliver material, both of which can hurt accessibility.
Because of this, it is crucial to evaluate the CMS's adaptability before making a final decision.
6. Pricing
Many CMSs, like most online software, are free to use, but only in their most basic forms. There is a price to pay for full features. The most attractive templates cost you more, forcing many to settle for anything less than ideal.
In addition, you'll need to register a domain name and adapt your web page's address to it. If you don't have a team or professional knowledge in this area, this also covers the cost of hiring somebody to design your site and manage all the visuals for you.
If you aren't careful, that could cost a lot more than you planned. If you don't want to overspend and end with a half-done website, stick to your budget.
Conclusion
Taking a CMS's features into account is crucial, but there are other factors to consider. Issues including support, licensing, accessibility, security, training, and much more should be taken into account.
Make sure to distinguish a list of requirements from a wish list. Reduce the number of things you need, but plan ahead anyway.